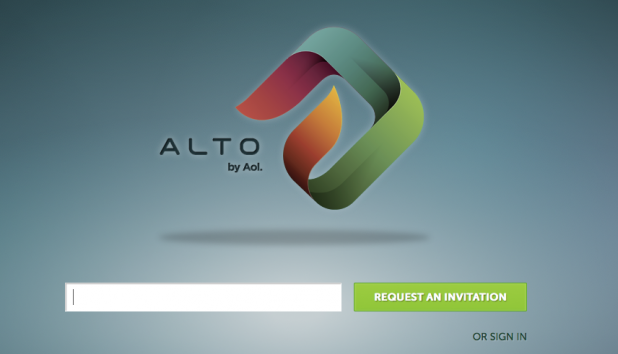 Once the reigning champ of the dial-up age, AOL has struggled in recent years to evolve into a Web property capable of competing on equal footing with Google and Yahoo. As part of that evolution, the company has launched Alto, which it describes as a "cloud-based email product." Like the native email apps for mobile devices such as the iPhone and Windows Phone, Alto allows the user to merge multiple in-boxes into a single interface. There's also the ability to create organizing "stacks" based on keywords, sender, recipient, and other categories; pre-loaded stacks include photos, attachments, social-networking notifications, and retailers. "When you sort through physical mail, you put it into stacks because it's a natural way to decide what's important, what's junk, and what to save for later," Joshua Ramirez, Senior Director of Product for AOL Mail, wrote in an Oct. 18 statement. "We wanted to recreate that experience with Alto, but make it intelligent and automatic, to easily deal with the hundreds of emails we get every day." Alto adds a fairly rich feature-set to an email platform. Users can view thumbnails of document and presentation attachments, receive social-networking updates about their contacts, and search. The platform supports Gmail, Yahoo Mail, AOL Mail, .Mac and .me email accounts, but it doesn't require the user set up an AOL email for access—good news for anyone interested in Alto who dumped their AOL email address back in 1999. Alto is free and in
limited preview at the moment.
The million-dollar question, of course, is whether a retooled AOL service can compete with Gmail, Hotmail, Yahoo, and all those other email services dedicated to aggressively building out their respective features. To its credit, AOL decided to take a whole new approach rather than simply revamp AOL Mail with some new widgets. But that doesn't mitigate the fact that the company's competitors are very strong. Then again, AOL isn't really positioning itself as a technology company. Over the past few years, it's bought several high-profile properties in a bid to become more of a media brand. Those acquisitions have included everything from
TechCrunch
and
about.me
to
The Huffington Post
.
Image: AOL