[caption id="attachment_4817" align="aligncenter" width="618"]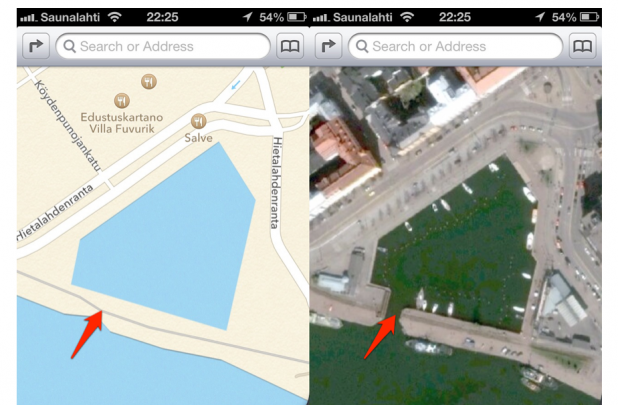 "The Amazing iOS 6 Maps"
Tumblr details many of Apple's Maps inaccuracies.[/caption] Apple has offered a public apology for its
problematic iOS Maps app
. Soon after the company made iOS 6 available for download, users began complaining of Maps' myriad inaccuracies, including a tendency to make landmarks disappear and bridges melt in satellite view. While that didn't stop some 100 million iOS users from downloading the latest version of the mobile operating system, it did expose Apple to criticism from an unexpected direction. "At Apple, we strive to make world-class products that deliver the best experience possible to our customers," Apple CEO Tim Cook wrote in a letter published on the
company's Website
. "With the launch of our new Maps last week, we fell short on this commitment. We are extremely sorry for the frustration this has caused our customers and we are doing everything we can to make Maps better." According to Cook, Apple decided to build its own maps app in order to give iOS features such as turn-by-turn directions and voice integration. "In order to do this, we had to create a new version of maps from the ground up." And then comes the incredible part, given Apple's tradition of fiercely advocating its own products over all others: "While we're improving Maps, you can try alternatives by downloading map apps from the
App Store
like Bing, MapQuest and Waze, or use Google or Nokia maps by going to their websites and
creating an icon
on your home screen to their web app." This isn't Apple's first public
mea culpa
. In 2010, then-CEO Steve Jobs offered an apology of sorts for reception issues associated with the iPhone 4, a situation glibly termed "Antennagate" by much of the tech media. Even then, it wasn't exactly a abject admission, with Jobs framing the iPhone 4's problem as one shared by other smartphones. At an earlier point, controversy over a sudden drop in iPhone pricing led Jobs to post an
open letter on Apple's Website
, offering rebates and "apologizing for disappointing some of you." So public apologies aren't a new thing in Apple's culture, although Jobs did his level best to avoid sounding hopelessly contrite. Those previous apologies—combined with the offer of free stuff and discounts—also seemed to extinguish much of the user anger over those respective controversies. Whether Cook's penitent tone helps defuse the Maps situation remains to be seen. While Google is apparently working on a Google Maps app for Apple's App Store,
reports indicate
it won't be finished for months. "We have not done anything yet," Google executive chairman (and former CEO) Eric Schmidt told an audience in Tokyo when asked about the app,
according to Reuters
.
Image: The Amazing iOS 6 Maps Tumblr