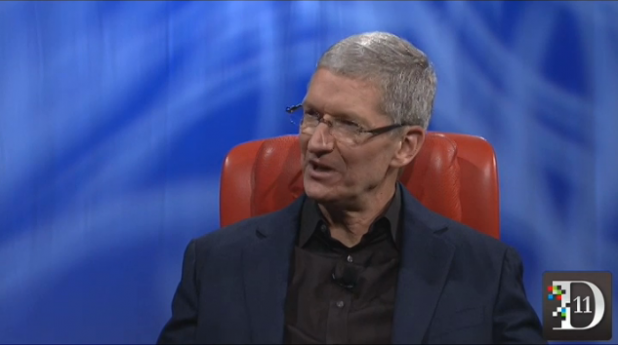 Can we start calling Apple CEO Tim Cook the Sphinx of Cupertino? Never the most gregarious of public figures, Cook used his May 28 appearance at
AllThingsD's D11 conference
to offer… exactly zero news about Apple's upcoming products. "We have some incredible plans that we have been working on for a while," he said, according to a
live blog of the event
released by AllThingsD. "We have several more game changers in us." Well, that's a relief to Apple stockholders. What about the persistent rumors that Apple will release some sort of television set? "It continues to be an area of great interest," Cook offered, adding that television remains an outdated platform from a technology perspective—something that other Apple executives have voiced
ad nauseam
in the past. Okay, so what about wearable technology? Google is ramping up development of
Google Glass
, its augmented-reality eyewear; and rumors have swirled for some time that
Apple is hard at work on some sort of "smart watch"
that could possibly run a variation of the company's iOS mobile operating system. That space is "ripe for exploration," Cook said. "The wrist is interesting." But it will take time for the "sensor field" to fully mature. Could Cook talk a little bit about
the upcoming iOS 7
, yet another focus of widespread rumor? No, he could not: "I think I will wait and let you see it." And what about the future of the iPhone? "It takes a lot of really detailed work to do a phone right." Cook was more forthcoming about Apple's upcoming battle with the U.S. Department of Justice over the price of e-books.
The Justice Department has asserted that Apple
, along with five publishers, conspired to raise e-book prices in tandem in order to eliminate price competition and better compete with Amazon; while the five publishers have settled, Apple seems determined to work the issue out in court. "We're not going to sign something that says we did something that we didn't do, so we're going to fight," Cook said. Then it was back to the Sphinx routine. Was Apple planning on buying up any smaller companies with its mountains of spare cash? Yes, if the right deal came along. Cook did suggest his company had "screwed up" on its Maps app for iOS, which hit the market in late 2012 to widespread reports of cartographical weirdness and incorrect directions; he also suggested that work in fixing those issues was ongoing. The full live blog is available on
AllThingsD's Website
, along with some video of the event. Watching the latter will reveal several exciting facts, including that Tim Cook is a human being and that Apple is a company that exists on Earth.
Image: AllThingsD