Apple
has become the latest tech company to
release a diversity report
—as well as the latest tech company to publicly wring its hands over the lack of diversity among its employees in the United States.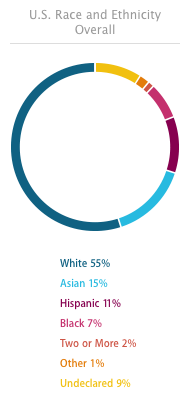 "As CEO, I'm not satisfied with the numbers on this page," Apple CEO Tim Cook wrote in a statement accompanying the report. "They're not new to us, and we've been working hard for quite some time to improve them. We are making progress, and we're committed to being as innovative in advancing diversity as we are in developing our products."
Click here to find iOS developer jobs.
By Apple's own accounting, 55 percent of its U.S. staff (including retail) is Caucasian; roughly 15 percent is Asian; 11 percent Hispanic; 7 percent black; 2 percent "two or more"; 1 percent "other"; and 9 percent undeclared. Breaking things down a little further, Apple's leadership team is 64 percent Caucasian, 21 percent Asian, 6 percent Hispanic, 3 percent black, and 6 percent undeclared. Its tech employees are 54 percent Caucasian, 23 percent Asian, 7 percent Hispanic, 6 percent black, 2 percent two or more, and 8 percent undeclared. As a company, Apple is 70 percent male and 30 percent female; in tech positions, the ratio becomes even more lopsided, at 80 percent male to 20 percent female. In his note, Cook also claimed that Apple has invested in diversity beyond that measured by the report. "Our definition of diversity goes far beyond the traditional categories of race, gender, and ethnicity," he wrote. "It includes personal qualities that usually go unmeasured, like sexual orientation, veteran status, and disabilities." (And yes, in true Apple style,
the report comes with an uplifting video
.) Compare Apple's numbers to
those of its archrival Google
, where 61 percent of employees are Caucasian, 30 percent Asian, 4 percent two or more, 3 percent Hispanic, 2 percent black, and less than 1 percent "other." Like Apple, Google is also 70 percent male and 30 percent female. The numbers are similar at
other major tech firms
, including
Facebook
and
Yahoo
. Many of those companies have pledged to do more for diversity, but it remains to be seen whether they'll transform words into substantive action.
Related Articles
Image: Apple
Upload Your ResumeEmployers want candidates like you. Upload your resume. Show them you're awesome.