[caption id="attachment_2686" align="aligncenter" width="618"]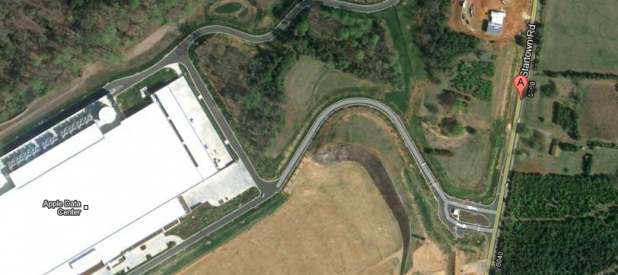 Aerial view of Apple's North Carolina data center facility.[/caption] Apple apparently can't get enough of North Carolina, at least when it comes to data centers: a new report indicates the company is planning to add to its already-substantial data center facility just outside the town of Maiden. According to the
Hickory Daily Record
, Apple has filed plans with Catawba County for a 21,030-square-foot facility, which will adjoin the existing data center. Various permits detail the installation of heavy-duty heating and cooling equipment, as well as a chain-link security fence. Apple also plans to build a hydrogen fuel-cell facility in the area, at least based on
other filed permits
. That would complement the solar-array installations under construction. Apple
has claimed
that some 60 percent of the data center facility's power will be generated onsite. As it stands now, the Maiden facility already incorporates energy-efficient design elements, including real-time energy monitoring and analytics. For those who want to look at the latest Apple-related permits themselves (which make for truly exciting reading), Catawba County has posted them online; head to the county's
Building Services Website
and enter "Startown" (the road beside Apple's facility) into the address-search box.
One permit for the new data center
lists it as having 11 rooms and a value of $1,885,129. A second facility at Maiden isn't the only Apple data center currently in the works: in late June, the
Reno Gazette-Journal
(and, subsequently, other tech publications such as
Wired
) reported that Apple planned to
open a data center
in the Nevada town of Sparks, a little bit east of Reno. In exchange for investing $1 billion in northern Nevada over the next decade (including a business and purchasing center in downtown Reno), Apple reportedly received significant tax abatements from the city, county and state; local officials claimed those abatements as necessary to attract the company to the region. Apple's growing number of cloud-based services, including iCloud and its burgeoning App Store, has greatly increased the company's need for data centers capable of handling massive amounts of data. For governments and businesses in counties chosen to host a data center, which can mean significant revenues from construction and taxes; however, new data centers generally don't translate into
massive numbers of new jobs
.
Image: Google Maps