[caption id="attachment_137961" align="aligncenter" width="880"]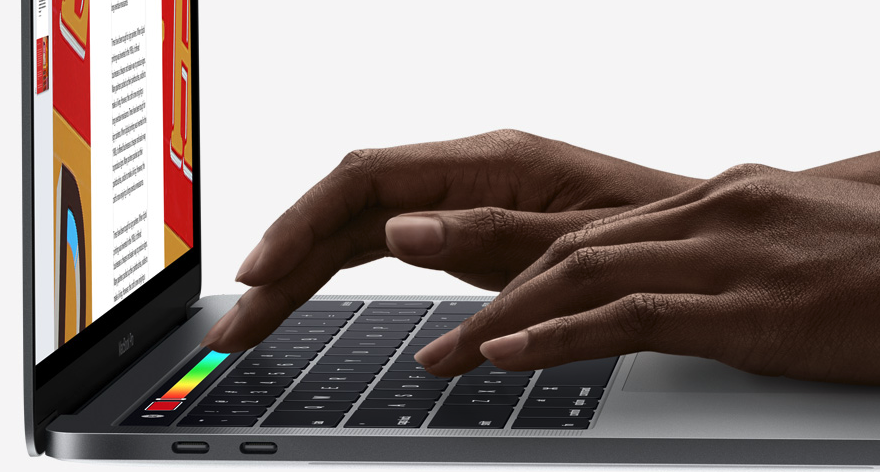 MacBook Pro Touch Bar[/caption] As expected, Apple dropped some hardware bombs at its 'Hello Again' event, held Oct. 27 at its Cupertino campus in California. While new MacBook Pros dominated the news, certain aspects of the hardware proved head-scratching mysteries – such as why the computers carry Intel Skylake instead of Kaby Lake processors, and how to best eulogize the demise of the keyboard function row. The new MacBook Pro features a slightly redesigned case that's a bit slimmer and less curvy (both the edges and chamfer on the surface are now less pronounced). The squared design also relies heavily on USB-C, sporting two ports on either side. As expected, Apple is leveraging USB-C for the MacBook's connectivity needs. The keyboard is also new, at least for a Pro. Apple brought the polarizing 'butterfly' keyboard from the 12-inch MacBook to the Pro. With less key travel, it takes a bit of use before most people fall for its subtle charm, but it's a breath of fresh air compared to the existing Pro keyboard, which feels squishy by comparison. Above the keyboard is an optional new interactive Touch Bar where the hardware function keys typically (and still do; more on that in a bit) reside. Simply put, the Touch Bar is a narrow Retina screen that runs the length of the keyboard, and changes its functionality depending on which app you're using. Curiously, some keys aren't static to the bar; the escape key, for instance, is sometimes replaced with a 'cancel' key, which just seems redundant. You can dismiss the bar to get back to a more normal state, though. There has been
speculation
that the Touch Bar is also powered by its own processor, which many liken to the Apple Watch's own system-in-package. Such a move would offload some light processing from the Macbook's CPU, but could eventually bring some standalone apps for the Magic Bar. It's easy to imagine shortcuts for menu bar items living in the Magic Bar, or some background apps making a home on the OLED display rather than in your dock (the latter is still possible, but makes much more sense if the bar has its own processor). The MacBook Pro now has Touch ID via a dedicated sensor next to the Touch Bar. Some speculate that, along with a move to an OLED screen, future iPhones will also feature similar fingerprint sensors, eschewing the Home button altogether. But when it comes to internals, the 2016 MacBook Pro has some explaining to do. The base model CPU is a sixth-generation Intel Skylake processor at 2.0GHz (dual-core i5). The top-end base offering is a 2.7GHz quad-core i7, though there are other options such as a 2.9GHz dual-core i5, as well. If you want to upgrade, Apple has options at 3.1GHz for dual-core and 2.9GHz quad-core. While the Pro offers a new 2TB flash storage option (!), a loud new speaker array and larger trackpad as well, it doesn't feature Intel's latest Kaby Lake processor. Many are scratching their heads at that.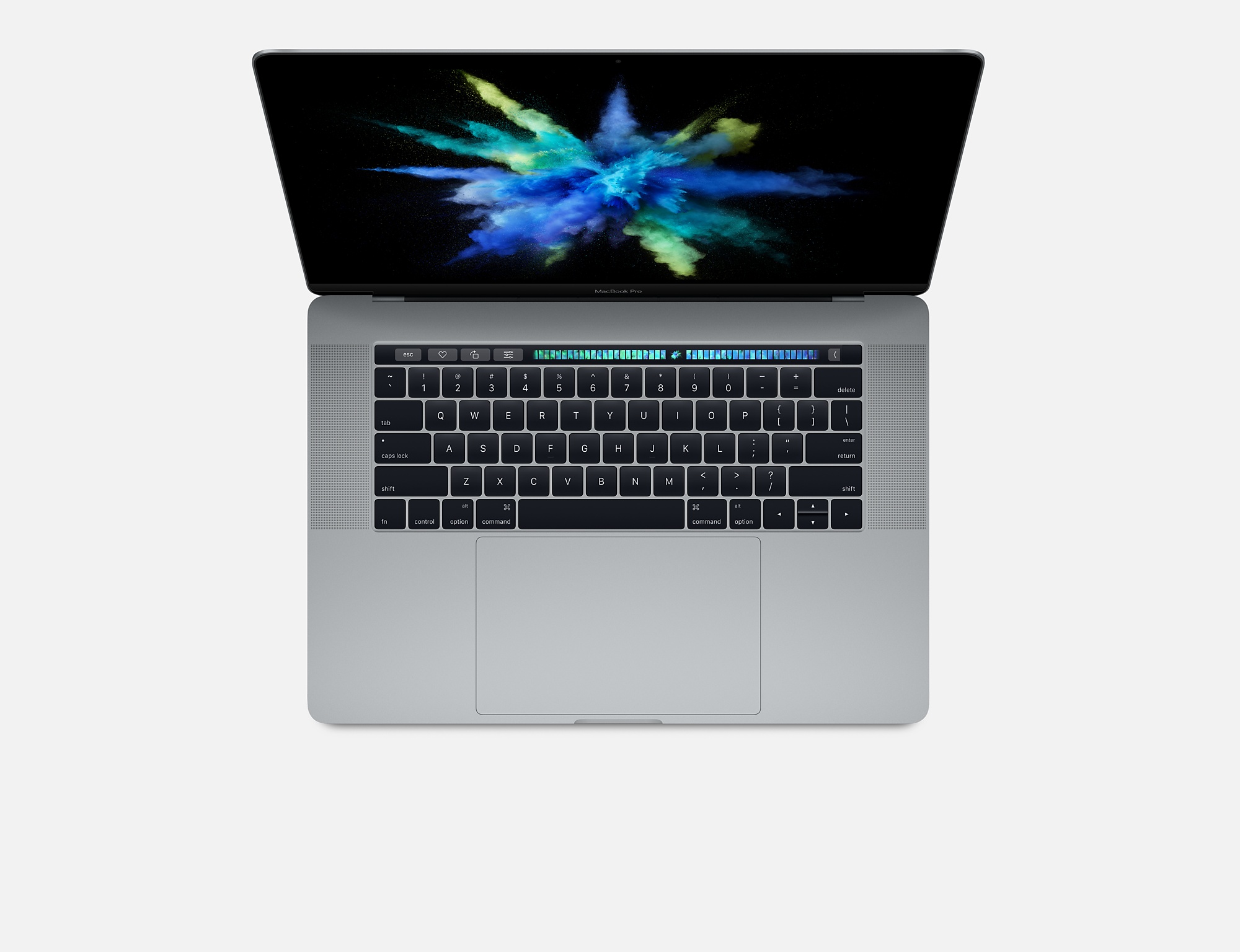 The Kaby Lake Problem
Instead of Kaby Lake, Apple is utilizing Skylake, Intel's now last-generation processor. Both it and Kaby Lake use the same manufacturing process (they're 14 nanometer thin), and are similarly performant. Still, there are some unique differences between the two that may cause some users to hold off on purchasing a new MacBook Pro. Kaby Lake is much better with video playback, especially 4K. In a test,
PCWorld
says a Kaby Lake processor provides about three times the battery life for video playback, thanks to it offloading much of the work onto its GPU. During playback, the CPU sits mostly idle, leaving you plenty of processing power for other tasks. Skylake's CPU reportedly dropped video frames and had trouble with 1080p playback. Part of the testing included video using the VP9 codec, which Google relies on widely – specifically for YouTube.
AnandTech
notes there's HEVC encoding – an alternative to VP9 – included with Skylake, but says Intel calls its VP9 support "partial" for both encoding and decoding (and probably why it's giving fuzzy results in testing). We should be clear that with normal day-to-day processes – even heavy Xcode builds or Adobe XD design sessions – a Skylake MacBook Pro
likely
won't let you down. The CPU speed differences between it and Kaby Lake are minimal (negligible, even). But if you're a heavy video viewer or editor, it might be worth holding off until the two can be directly compared on a MacBook Pro. Kaby Lake has already begun shipping to customers like Apple, so a mid-year refresh may arrive in 2017. And the new MacBook Pros have Radeon Pro 455 or 460 GPUs in some models (with a dedicated 2 or 4GB of memory) alongside an Intel HD 530 for "low-intensity graphics." Apple notes "Radeon Pro includes two geometry processing engines, which can improve render speeds in pro apps like Maya and Final Cut Pro X. It also features a wider shader core architecture, which delivers greater throughput, significantly improving the smoothness and playability of modern games."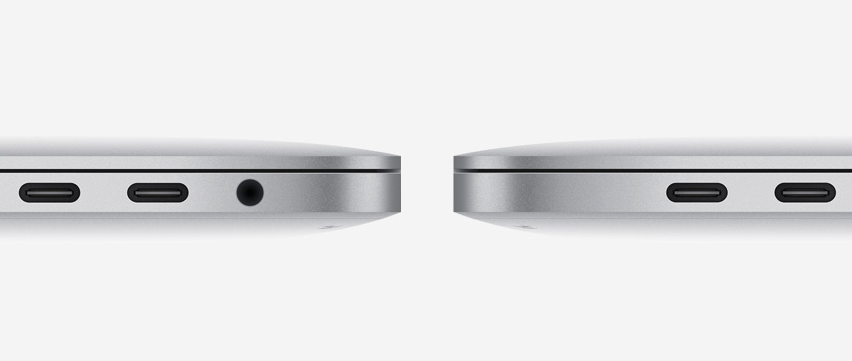 MacBook Odds and Ends
If you're interested in a new Pro, they start at $1,499 and scale up to $4,299. You can still get a 13-inch MacBook Pro with hard function keys if you don't want the Touch Bar; that model is likely meant to replace the MacBook Air, once Apple runs out of its existing supply of the latter. While you can still buy a MacBook Air,
only the 13-inch model
is available, and it's not a stretch to assume that Apple will eventually eliminate the model. The new Pros also have four USB-C ports that double as Thunderbolt ports. That means you can charge your MacBook using any port you like, and all are equipped for high-speed data transfer. Apple also failed to bring forth a USB-C hub to replace all the missing connectivity ports. Instead, you'll have to buy your dongles piecemeal and hope you've got enough ports to cover your needs. The computers also support up to two 5K monitors, and Apple has partnered with LG to bring a USB-C variant to customers. It likely signals the end of the familiar Thunderbolt display, but LG's replacements are solid, even if they don't carry a fancy name. MacBooks – you know, the
12-inch darling
that started all of this mess – is still around. It hasn't changed at all, either. As a result, Apple's lineup is a bit strange, though; there's now a 12-inch MacBook, the MacBook Air, two 13-inch Pros (function keys or Touch Bar) and a 15-inch model with a Touch Bar. At the event, there was absolutely no talk of the iMac, Mac Mini, Mac Pro or other important peripherals such as the AirPort. Apple's event was almost entirely about the MacBook, and it leaned really hard into the Pro – so much so that it will almost certainly end up killing off the beloved Air and confusing the landscape with multiple Pro variants and the always-befuddling 'MacBook.'