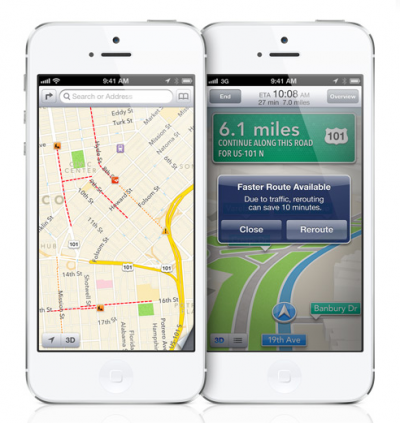 Apple's turnaround of its much-maligned iOS Maps app has begun in earnest, with senior vice president Eddy Cue reportedly firing the senior manager overseeing the software.
According to Bloomberg
, which first posted the report about the firing, Cue is also "seeking advice from outside map-technology experts" as well as "prodding maps provider TomTomNV (TOM2) to fix landmark and navigation data it shares with Apple." Bloomberg drew the information from unnamed people "familiar with the situation." Once upon a time, Apple relied on Google's mapping data for iOS, but the souring relationship between the two companies may have driven Apple to pursue its own cartographical path, starting with the revamped Maps app in iOS 6. Unfortunately for Apple, its homegrown maps ignited a storm of criticism from users, who complained of everything from missing landmarks to inaccurate directions. The issue became so heated, in fact, that Apple CEO Tim Cook had to issue an apology on the company's Website. "At Apple, we strive to make world-class products that deliver the best experience possible to our customers,"
he wrote
. "With the launch of our new Maps last week, we fell short on this commitment. We are extremely sorry for the frustration this has caused our customers and we are doing everything we can to make Maps better."
The New York Times'
Nick Wingfield and Nick Bilton reported
in October
(citing "people briefed on Apple's moves") that Scott Forstall, the Apple executive in charge of iOS, was fired in large part for refusing to sign that apology letter. Google is supposedly working on a standalone Google Maps app for iOS, but it could be a long wait: according to a November article in
The Guardian
, itself citing unnamed "sources at Google familiar with its mapping plans," the search-engine giant remains pessimistic about the possibility of Apple approving a Google Maps app for the iOS App Store. One of the newspaper's sources also indicated that Apple would instead concentrate its resources on improving the homegrown Maps app. In September,
Reuters reported
Google executive chairman (and former CEO) Eric Schmidt as telling an audience in Tokyo, "We have not done anything yet," in response to a question about an iOS Google Maps app. In the meantime, it seems that Apple is rushing at full speed to fix its own mapping issues.
Image: Apple