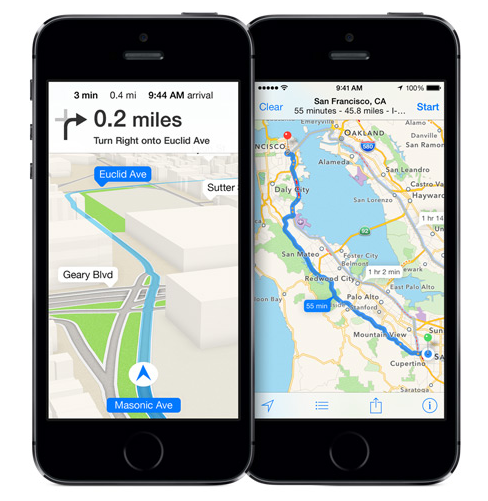 Apple is planning a major map overhaul for iOS 8, according to reports. If verified, such a course wouldn't prove all that shocking—Apple has spent a not-inconsiderable amount of money over the past several quarters on smaller mapping firms that could help augment its Maps app.
According to 9to5Mac
, itself citing unnamed sources with familiarity of the matter, the updated Maps app will come with "under the hood" changes to complement the aesthetic upgrades introduced with iOS 7. "The new application will also be injected with new points of interests and new labels to make places such as airports, parks, train stations, bus stops, highways, and freeways easier to find," is how the blog's posting described these changes. "Sources also say that the mapping application's cartography design has been tweaked to be slightly cleaner and to make streets more visible." Public transit directions will also reportedly make an appearance. The posting also suggests that Apple is working on its own version of an augmented-reality app that will overlay virtual elements such as street directions and mileage onto scenes captured via the iDevice's camera; Apple reportedly has a patent for such technology. Before it built its own platform, Apple relied on Google's cartographical data for the iOS Maps app. But at a certain point, the company decided that such a reliance on Google was untenable, especially in light of the growing rivalry between the two tech titans. But Apple's first homegrown attempt at Maps, released in 2012 along with iOS 6, was a very public failure: the maps featured inaccurate directions and geographical weirdness, all of it reported in loving detail by pretty much every tech blog and Apple fan-site on the planet. Apple rushed to fix the issue, and CEO Tim Cook offered an apology on the company's Website. "At Apple, we strive to make world-class products that deliver the best experience possible to our customers,"
he wrote
at the time. "With the launch of our new Maps last week, we fell short on this commitment. We are extremely sorry for the frustration this has caused our customers and we are doing everything we can to make Maps better." That updating continues.
Image: Apple