[caption id="attachment_2871" align="aligncenter" width="618"]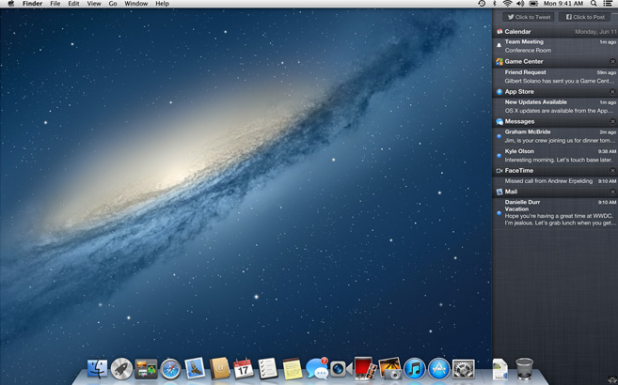 Apple's OS X 10.8 Mountain Lion.[/caption] Apple's OS X 10.8 Mountain Lion, the latest version of the company's Mac operating system, offers some significant polishes and new features. It's also the leading example of how Apple's mobile devices—which revived the company's fortunes and helped transform it into an industry juggernaut—are exerting an increasing influence on the other Apple product lines. Mountain Lion offers several features, new to OS X, which first appeared in Apple's iOS. These include iCloud, which uses the cloud to sync documents and other data between the user's devices; Reminders and Notes, a pair of longtime iOS apps; and Messages, an evolution of the iMessage platform that made its debut with iOS 5. A Notification Center groups emails, calendar alerts and other bits of day-to-day information in a common location. Mountain Lion also tweaks the Mac App Store. An app storefront first appeared on iOS, encouraging third-party developers to build hundreds of thousands of apps for the platform, before Apple ported the model to OS X. Combine Mountain Lion's software features with Apple's drive toward making its laptops sleeker and lighter (the flagship MacBook Pro with Retina Display, lacking an optical disk drive, bears more similarities to the MacBook Air than previous Pro versions) and it's clear that Apple believes the future lies with devices that are flexible and ultra-portable. Of course, that also means an increased dependence on the cloud to store, deliver, and sync content—hence
Apple's focus on building and expanding data centers
. But when it comes to cloud-centric, flexible operating systems, Mountain Lion isn't the only animal stalking around:
Microsoft's Windows 8
, due in October, incorporates features that originally appeared on the company's Windows Phones, including sets of colorful tiles linked to applications. The logic behind the "reimagining" of Windows is simple: tiles can be touched as well as clicked on, meaning the operating system can operate with equal facility (at least in theory) on tablets and mobile devices as well as traditional laptops and desktops. Windows 8 will also rely heavily on the cloud for many functions; indeed, Microsoft has incorporated an app store into the interface, as well as SkyDrive for online storage. That sets up something of a battle for the fall. Although Mac OS X occupies a small portion of the "traditional" operating system market, Apple is looking to gain share. Meanwhile, Microsoft needs Windows 8 to not only help maintain the company's dominance of the OS market, but also take on the iPad in the mobile space. How that battle plays out is anyone's guess, but it's a certainty that new, cloud-based features and apps will play a large part in determining the fates of each OS.
Image: Apple