[caption id="attachment_6587" align="aligncenter" width="517"]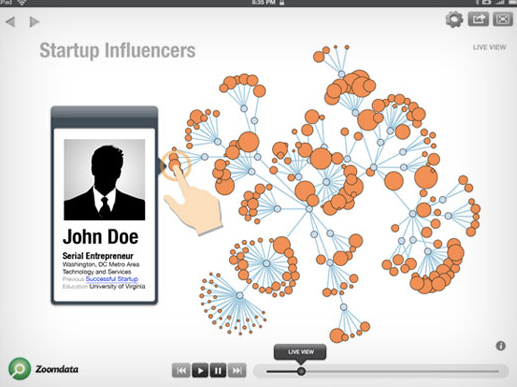 Zoomdata offers just one example of how Big Data visualizations are being formatted for mobile viewing.[/caption] While many pundits and analysts have identified mobile BI as a key emerging trend (look no further than SlashBI's recent
BI Predictions and Trends for 2013
), the reality is that tablets and smartphones lag with regard to Big Data capabilities. Nonetheless, it's critical for these mobile devices to catch up, given their growing popularity.
Gartner predicts
that, in 2013, mobile tools will replace PCs as the most common Internet-access devices worldwide. The professional world is at the forefront of this shift, with employees in most industries using mobile tools to check email, contact customers, and collaborate with workers. As more companies adopt bring-your-own device policies, some industries in the near future might not even need desktop machines at all. Every Tweet, text, and Facebook status has the potential to provide companies and researchers with valuable information. But it's not just marketers mining social media for consumer information. Public-health researchers, economists, urban planners, and others all benefit from the real-time and diverse data. That makes mobile devices—the conduit for much of that data—an invaluable component of all those groups' work. At the same time, workers are starting to harness portable tools to view, analyze, and visualize large sets of data. For some industries, on-the-go Big Data could prove particularly groundbreaking. For instance, doctors with the ability to instantly access large data sets about medical conditions, research studies, and multiple, complex patient histories could make quick but informed diagnoses at the bedside or in the operating room. Similarly, mobile devices have the potential to provide scientists in the field with access to data-rich research, figures, and reports, eliminating the inconvenient hassle to return to a desktop.
Setbacks
However, despite the need for and obvious benefits of reliable, mobile capabilities for Big Data, several setbacks mean that the technology continues to lag behind. Security remains a major concern, as Big Data often consists of sensitive information such as customer details and health records. "As organizations ingest more data, they face significant risks across a complex threat landscape and they are subject to a growing number of compliance regulations," read a
recent IBM report
. "Traditional approaches to data protection are often unable to meet these requirements." Adding mobility (a typically less secure environment than the desktop) to this unstable landscape could make stricter security regulations difficult to follow. New security implementations for both Big Data and mobile devices, however, are minimizing the risks. IBM, for example,
now offers encryption
of information on popular big-data interfaces, such as Hadoop. If IT departments enforce rigorous security policies for mobile devices—both company-provided and employee-owned—there's no reason why access to Big Data on mobile platforms shouldn't be as secure as desktop alternatives. With vast and growing amounts of information, the storage of Big Data is another setback for mobile tools. According to
a recent study
by Forrester Research and Juniper Networks, fifty-two percent of surveyed companies are struggling to keep up with the storage demands brought on by Big Data. And if Big Data alone presents a storage crisis, the utilization of limited-storage tools like smartphones will only exacerbate that problem. "The processing demands of Big Data mean that even the fastest computing systems today are sure to be inadequate tomorrow," Juniper CIO Bask Iyer
wrote in a recent blog post
. "Forrester's survey found this relentless increase is about to run up against the constraints of a limited resource—the capacity of the networks that connect everything together." Cloud computing, with its enabling of remote, limitless storage, is likely to be crucial for any deployment of Big Data on mobile devices. "As the mobile Internet brings billions of new devices online, cloud computing puts unimaginable computing power in the hands of anyone with a basic Internet connection," Iyer added. The inherently small nature of mobile devices is another significant impediment for Big Data, as visualization of vast data sets is difficult on a screen that fits in one's palm. This means larger mobile devices such as tablets might prove more conducive to Big Data than their smaller counterparts. In order for mobile data solutions to succeed, these tools will need to incorporate innovative designs and visualization methods; programmers will have to think beyond the desktop. Although the world of mobile Big Data remains relatively uncharted territory, several start-ups are crafting to inventive solutions. The creators of
ZoomData
argue that mobile devices are ideal for Big Data because of their intuitive touch screens. The company enables real-time visualization of large data sets from multiple data sources, such as social media, enterprise systems, and Hadoop HDFS. The technology neatly stitches information together in easy-to-interpret graphics that are viewable and interactive on devices such as the iPad.
Moonshadow Mobile
is another start-up focused on bringing Big Data to mobile tools. Specializing in data mapping and visualization, its programs allow users to overlay information onto Google or Bing Maps, input company and employee data, and chart census results. Specifically designed for mobile devices, Moonshadow is cloud-based and can support hundreds of millions of records. Mobile Big Data is also gaining interest from some larger mobile companies.
Nokia's Big Data Challenge
, for example, aims to encourage mobile solutions for the analysis and visualization of Big Data. The company sponsors a competition for innovative ideas about expressing Big Data on portable machines. As mobile devices become the norm in 2013, expect to see more businesses pushing to access Big Data on-the-go. Although today only a few companies specialize in mobile Big Data, start-ups are going to quickly populate this new but likely lucrative industry.
Image: Zoomdata