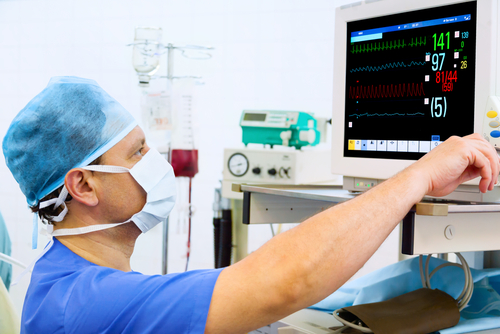 Whatever the possible uses of Big Data platforms—improving a company's IT security, creating a better jet engine, or merely picking through customer data—it's increasingly clear that medicine is poised to embrace data analytics in a serious way. The
American Society of Clinical Oncology (ASCO)
just announced the completed prototype of a new computer network designed to collect and analyze data from millions of millions of patient visits. The system, known as CancerLinQ, incorporated a number of open-source applications; features include real-time data collection from electronic health records and other sources; clinical decision support (i.e., individualized guidance on patient care); and data mining and visualization. "Today we know very little about the experiences of most people with cancer because their information is locked away in unconnected servers and paper files," ASCO president Sandra M. Swain wrote in a statement. "Only the 3 percent of patients who participate in clinical trials are able to contribute to advances in treatment. CancerLinQ will transform cancer care by unlocking that wealth of information and enabling every patient to be a cancer knowledge donor." The CancerLinQ network will store data from 133,000 cases, gathered from oncology practices around the United States. ASCO isn't the only organization seeking to apply Big Data to treating cancer:
IBM's Watson supercomputer
is also being used to process and analyze oncology data. In February, Big Blue announced that it had partnered with WellPoint and Memorial Sloan-Kettering Cancer Center in New York City to train Watson in processing and interpreting oncology data. In that case, clinicians and other human trainers spent nearly 15,000 hours "teaching" Watson how to interpret clinical information. That's in addition to feeding the supercomputer more than 600,000 pieces of medical evidence, along with two million pages of text from 42 medical journals and clinical trials. Watson can also access 1.5 million patient records extending back decades, including patient outcomes, in order to produce insights into the best possible course of treatment. Outside of oncology, more hospitals are embracing Big Data as a tool for diagnosis and treatment: consulting firm Frost & Sullivan
predicted last year
that the number of hospitals crunching health data will rise to 50 percent by 2016, a 27.9 percent compound annual growth rate. In theory, analytics can assist hospitals and health-care facilities in developing more efficient supply chains and determining infection rates, among other uses. IBM certainly isn't the only tech giant in the space:
the Intel Science and Technology Center (ISTC)
for Big Data at the Massachusetts Institute of Technology's Computer Science and Artificial Intelligence Laboratory (CSAIL), for example, will allow researchers to analyze massive datasets related to healthcare and life sciences (among other topics).
Image: beerkoff/Shutterstock.com