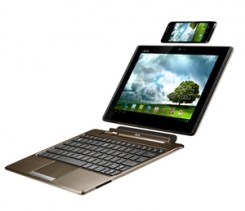 The
Asus PadFone
is no stranger to those who follow gadget news. The Taiwanese manufacturer, perhaps more well known for its line of laptops and motherboards, has been teasing us with the PadFone since last May, an incredibly long gap between announcement and launch date by tech industry standards. Thankfully, the wait will be over soon. The PadFone will be ready in April, almost a year after the first announcement. Initially, the PadFone was intended to be a smartphone and tablet hybrid. The smartphone is the main device for handling computer tasks. It can be easily transformed into a tablet by simply docking the 'fone' into the 'pad.' The PadFone on display at Mobile World Congress is slightly different. In addition to the tablet dock, Asus takes it a step further by including a keyboard dock (probably an external accessory you'll have to pay for). Think of it as the Transformer Prime, if that makes imagining any easier. When everything is fully docked, you'll have your smartphone powering your tablet, and your tablet docking on a keyboard, resulting in an Android-based laptop that is, well, also your smartphone, which can still ring even in this awkward position. Asus has solved that problem too, although its solution isn't any less awkward. Brace for it: a stylus doubling as a headset. At this point, I have a feeling that Asus engineers will make good Pokémon designers. Don't get me wrong, while it takes a while for all that 'hybrid' to sink in, I think it's a really brilliant solution if everything works as intended.
Dual-core processor, Ice Cream Sandwich
The smartphone itself will be powered by a 1.5GHz dual-core Snapdragon S4 processor, 1GB RAM, 8-megapixel rear camera and VGA front camera. It has a 4.3-inch 960x540 Super AMOLED display, which can be expanded to 10.1-inch with a resolution of 1280x800 when docked. More importantly, the device will be running on Android Ice Cream Sandwich, the perfect operating system for this kind of setup. When docked to the 'pad,' the PadFone's battery life will be extended five-fold. It will reach nine-fold when the 'pad' is docked to the keyboard. The specifications, generally speaking, are really fine, but nowhere near great when compared to some of the latest quad-core tablets announced at MWC. As such, we hope that the PadFone will more reasonably priced.