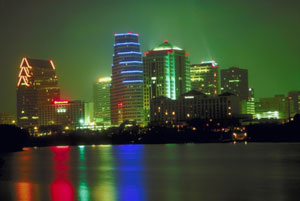 Chamber Launches Technology Partnership:
The Greater Austin Chamber of Commerce is creating the "Technology Partnership of Austin" initiative to accelerate the growth of local tech companies. The initiative includes identifying a working space in downtown for startups and forming an advisory board of local technology leaders who can discuss ideas about how to improve the city's technology infrastructure.
KXAN.com
Digital Harmony Developing Multi-Platform Gaming:
The company says its technology will allow players to use different phones and tablets. So, for example, one person can play on an iPhone while his opponent pursues him on Android. It's pitching its plan to prospective investors, figuring it'll need $2 million to reach profitability.
Statesman.com
Dell World Focused On Developing Technologies:
Dell scheduled its first Dell World technology show for Oct. 12 to 14 at the Austin Convention Center. The show is expected to attract 1,200 key customers and opinion leaders, and will include talks and workshops to explore key issues around cloud computing, social networking, virtualization and handling today's explosion of data.
Statesman.com
Biotechnology Sector Grows:
The biotechnology sector here is providing new opportunities for new college graduates in both science and technology. While Austin isn't yet a biotechnology hub like San Diego or Boston, it's seen as a growing in influence.
KVUE.com
UT Professor Elected Microsoft Fellow:
Brent Waters, a professor at the University of Texas in Austin, has been elected as one of this year's Microsoft Research Faculty Fellows and will receive a grant of up to $200,000. Waters' work is oriented around foundations for a new model to secure data stored in the cloud.
PCWorld
WhiteGlove Health Postpones IPO:
While WhiteGlove Health planned an IPO by the middle of August, CEO Bob Fabbio said "the significant volatility of the markets has caused us to delay our pricing until such time the markets stabilize."
Austin Business Journal
Spiceworks Secures $25 million:
Software company Spiceworks raised $25 million to help it grow and build its social business network. The network has grown to 1.5 million members who spend more than $260 billion annually on technology products and services, according to the company.
Austin Business Journal