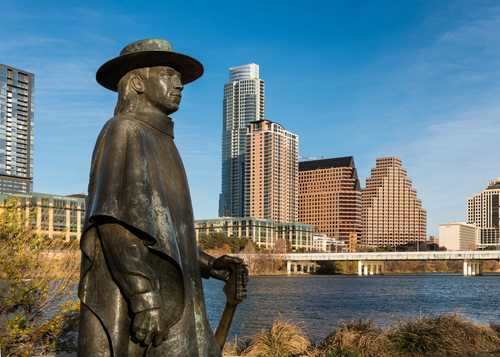 What's New This Quarter
Everyone likes Austin—including Forbes, which ranked the city second on its recent list of
Best U.S. Cities for Future Job Growth
. Forbes projects the annual job growth at 4.1 percent, which mirrors the unemployment rate of 4.1 percent. The Austin Technology Council predicts that 9,000 new tech jobs will be created in the city by 2017. Dice also picked up on this positive trend,
crunching the numbers in August
to find that Texas as a whole is the fastest-growing state for technology jobs, with an annual six percent growth rate. "With no state income tax and relatively low housing prices, it seems like we are watching new companies move or expand into Austin every month," said Josh Olson, sales director at recruiting firm
Randstad Technologies
.
Click here to find a tech job in Austin.
There's no doubt that tech remains Austin's biggest economic driver. A report by
Wells Fargo Securities
, titled "The Texas Economic Outlook," found broad-based economic growth in the city, with the tech sector leading the way. Familiar names such as
Apple
,
IBM
, and National Instruments are always in the news, but the report made a point of pointing out the local importance of lesser-known firms such as Flextronics, Ottobock, and Websense: "Professional and technical services employment is up 7.1 percent from a year ago, and solid gains have been seen among cloud computing, data processing, and search." And tech companies, of course, inspire related businesses.
Upload Your ResumeEmployers want candidates like you. Upload your resume. Show them you're awesome.
If you want to know who's really on the fast track in Austin,
Inc. magazine's Inc. 500 list
, released in August, highlighted some fast-growing Austin companies. The top four:
Simpler Trading, up 10,523 percent
Main Street Hub, up 4,625 percent
Phunware Inc., up 4,040 percent
Jobs2Careers, up 2,830 percent
And what's new with some of Austin's biggest names?
AT&T
has unveiled plans for a 15,000-square-foot Center for Innovation in downtown Austin. The telecom giant hopes the Center will drive company initiatives in technology, education, and arts. The company also continues to roll out its one-gigabyte U-Verse broadband service around town.
Google
has taken over the former site of the Austin's Children's Museum at 201 Colorado St., but hasn't yet said when it will move in or what it will use the space for.
Rackspace Hosting
is moving into the former Highland Lakes Mall and relocating 570 employees to the site by late next year as part of its new expansion plans. Rackspace has a particular taste for shopping mall takeovers, which is a great thing as more and more malls die off.
Dropbox
, which currently has 50 employees in Austin, will expand to 150 by the end of the year as it moves into a new building at Fifth and Congress. According to Silicon Hills News, the new facility will host sales and operations jobs and serve as a Latin American gateway. The company recently ended its $244,500 incentive from the city, but does have a $1.5 million Texas Enterprise Fund grant to expand in Austin. There are also two new names gaining attention.
Magnitude Software
has just completed a $100 million financing round to grow its customer base and make new hires. The company, which designs enterprise information management software, was formed in April when Noetix Corp. and Kalido Co. merged. And
Acxiom
, a data mining, analytics and marketing company said it will open an Austin office and hire 150 new employees, including
network engineers
,
security engineers
,
system engineers
,
security architects
,
network architects
,
infrastructure architects
,
software engineers
, and
project managers
. Among the weirdest tech hiring stories of the summer was the attempt of Bigcommerce, an SMB e-retail software maker, to poach tech workers from its competitors by showing up at their offices with donuts and flyers that said "Donut Settle for Less." This highly aggressive approach was roundly criticized, but it certainly earned the company plenty of buzz. Finally, if you can't work for Michael Dell, perhaps you'd like to work for his son. Zachary Dell is the founder of Austin-based ThreadDating.com, which specializes in mobile online dating for college students. "Thread is unique in that it promotes a safe and relevant connection experience by restricting its users to the college community and connecting people based on more than just a photograph," its website says. The service is not yet up and running. Michael Dell is listed as an "advisor."
Skills in Demand
"Austin is a leader for startups, and there are many opportunities for tech professionals," suggested Rob Robinson, district president of IT recruiting firm
Robert Half Technology
. "Unemployment is extremely low so it continues to be a candidate's market." Robinson's list of hottest job titles:
database developers
,
Java developers
,
network administrators
,
.NET developers
,
PHP developers
,
QA testers
, and network architects. "We continue to see need for .NET and Java developers, project managers, and
business analysts
," says Randstad's Olson​. "We're also watching an uptick in
Salesforce development
and
DevOps positions
.​"
Leading Industries
Technology Manufacturing
Government
Financial Services
Software Development
Local Employment and Research Resources
Related Articles
Image: Nagel Photography/Shutterstock.com