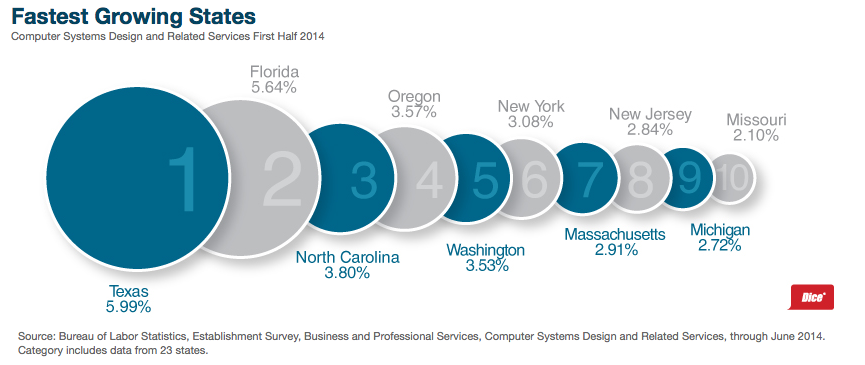 This year's fastest growing state for technology jobs is built on two pillars: the highest percentage growth and the most new positions added in the first half of the year. In fact, this state has created so many new jobs, it now ranks as having the second largest workforce of technology professionals behind California, according to data from the Bureau of Labor Statistics covering computer systems design and related services. Let's do the two-step for Texas. The Lone Star state has added 8,100 positions this year to employ 143,300 tech workers, nearly a six percent jump. And, Texas' tech employers are looking to the future, with plenty of
mobile
,
Big Data
and
software developer
openings on Dice from Austin to Dallas to Houston. Other states to watch:
In just the first six months of 2014, Florida created nearly as many tech jobs (4,100) as the state did in all of last year (4,500). Tech hiring and availability of professionals has become a campaign issue during the gubernatorial election. The focus for Florida, like many states, is on growing their tech workforce and starting young, with techCAMPs as one initiative.
North Carolina grew tech jobs at nearly four percent, third highest in the nation. On any given day, North Carolina's tech employers post 2,200 open positions on Dice searching for Java and SQL professionals, as well as Business Analysts amongst others.
The Pacific Northwest rounds out the top five, with Oregon and Washington. Both states enjoyed a mid-three percent increase from year-end. According to the Oregonian, startup funding is blossoming this year, with companies like Puppet Labs benefiting. Puppet's software helps sys admins automate configuration and management of machines and the software running on them.
One quick note on number ten: Missouri. After being the fastest growing state for tech jobs two years in a row, the pace has slowed, but the expansion has continued—up two percent from year-end.
Shravan Goli President, Dice
Upload Your ResumeEmployers want candidates like you. Upload your resume. Show them you're awesome.
Image: Dice