[caption id="attachment_4330" align="aligncenter" width="583"]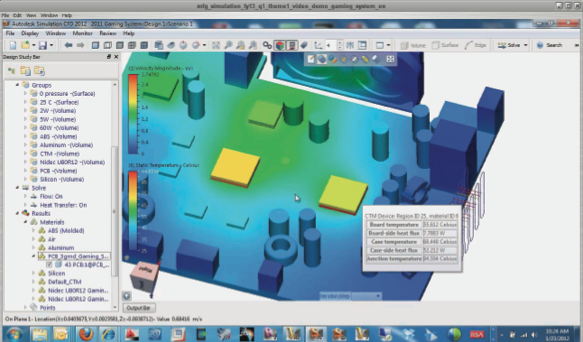 Autodesk Simulation 360's capabilities include running what-if scenarios in parallel and assessing stresses and loads on virtual buildings.[/caption] Autodesk has introduced a cloud-based set of tools for simulating design and engineering processes. The Autodesk Simulation 360 platform is in many ways the culmination of the company's work in the cloud over the past few years; and for engineers and designers who use its products, a new way of working that could end up delivering faster results. Platform capabilities include mechanical simulation, allowing engineers and designers to subject virtual structures to all sorts of stresses and loads, and fluid flow and thermal simulation, which lets those professionals study everything from how fluids and gases move through devices and buildings to the thermal effects of solar and diurnal heating. Workers can use the cloud platform to run what-if scenarios in parallel and assess complex geometries. Knowing how a design will perform before actually constructing it in the real world is, to put it mildly, a good thing for any company with a schedule and a budget. However, simulations come with their own burdens. For quite some time, the limits of processing power meant that complex simulations could take significant time to execute, potentially wrecking an engineer or designer's workflow. There's a reason why the federal government commissions
enormous supercomputers to simulate nuclear weapons tests
, and it's not just because it wants IBM and other IT vendors to keep pushing against the sustained-petaflop ceiling. Relying on the cloud helps eliminate some of that time lag: instead of relying on local processors and storage, an engineer using Autodesk's cloud platform is relying on Amazon's infrastructure. That reduces the time necessary for successive simulations, potentially saving time and money. Relying on the cloud also eliminates the need for up-front hardware and other infrastructure investments. "The ability to run multiple simulation studies in the cloud, in the same time as a typical singular simulation study with single variables, really opens up the game for us by helping us understand much more of the system in a shorter amount of time," Matt Nowicki, senior product engineer at BioLite, wrote in a statement released by Autodesk. Other Autodesk Simulation 360 features include material libraries, user authentication and other security steps to protect intellectual property, and collaboration and sharing workspaces. As mentioned above, Autodesk has been working in the cloud for some time. A few years ago it launched Autodesk Seek, an online resource for downloading BIM models and product specifications.
It relied on Amazon Web Services (AWS)
such as EC2 (Elastic Compute Cloud) and S3 (Simple Storage Service).
Autodesk 360
, another cloud service, lets workers store, view, and share files online. Autodesk Simulation 360 is built on the latter platform, and its emphasis on heavy-duty simulation work—the bread and butter of many Autodesk customers—makes it a particularly notable step in the company's evolution to the cloud.
Image: Autodesk