OK, so imagine you are feeling unhappy in your present gig. So, what do you do? Flip through job ads on Dice, interview and wait for the offer letter to come in, right? Is that it? Sure, the grass is always greener in the cubicle across the aisle. But is it really? Before you accept any job offer, or any offer to interview, do a bit of research on the companies you're talking to and automate whenever possible. Let me give a quick demo of what I mean. If I were looking for a new gig I would focus my attention on companies that are making strides and expanding. And why do I say "expanding?" Well, there are times when a job is posted but that company is no longer hiring for that position. Since "real jobs" are hard to immediately recognize when you're scanning job ads, I do a Google News search to bring them into focus. For example, this is what happens when I do a search for companies that are actively hiring or soon will be hiring.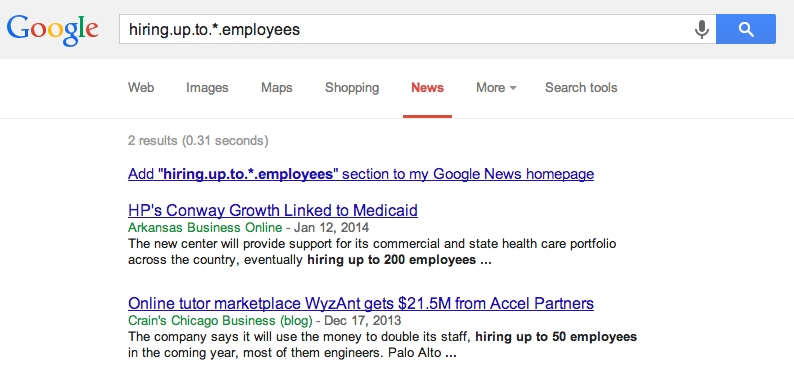 When I review the search results, I find headlines and quotes like this:
HP's Conway Growth Linked to Medicaid Arkansas is also a beneficiary of HP's work in health care: This year, the company will open a regional development center in Conway, where it already has a customer service and tech support facility. The new center will provide support for its commercial and state health care portfolio across the country, eventually hiring up to 200 employees there.
And…
Online tutor marketplace WyzAnt gets $21.5M from Accel Partners WyzAnt, an online tutoring marketplace, got a huge cash infusion from one of the most high-profile venture funds. The Chicago-based startup says Accel Partners is investing $21.5 million in the company, founded in 2005. The company says it will use the money to double its staff, hiring up to 50 employees in the coming year, most of them engineers.
Based on this information, I know (for sure) jobs are coming from
HP
and WyzAnt in the near future in Arkansas and Chicago, respectively. So, I hop over to
Dice
and create a
job alert
. For the sake of argument, I am interested in software development opportunities. I use boolean in the "Keywords" section (as shown by arrow "A" in the image below).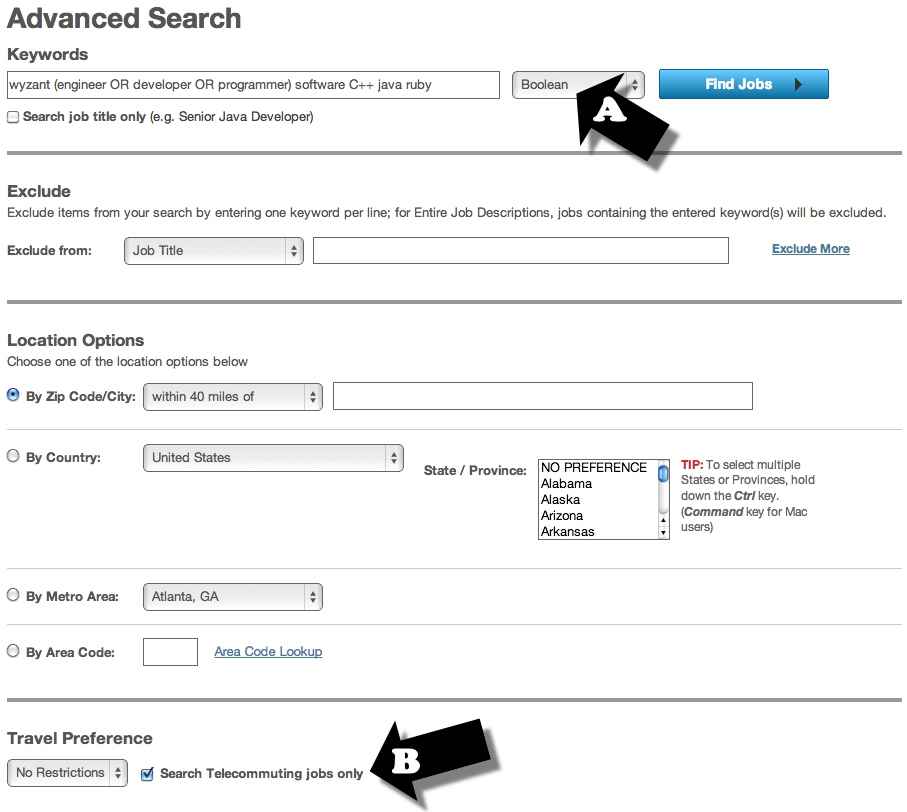 I refine my results further by choosing the option "Search telecommuting jobs only" as I have become quite spoiled, working from home since 2004. (See arrow "B" in the image above.) Now, when new jobs enter the Dice database from WyzAnt, I'll get a notification. Easy peasy. I also use another tool called
Watch That Page
.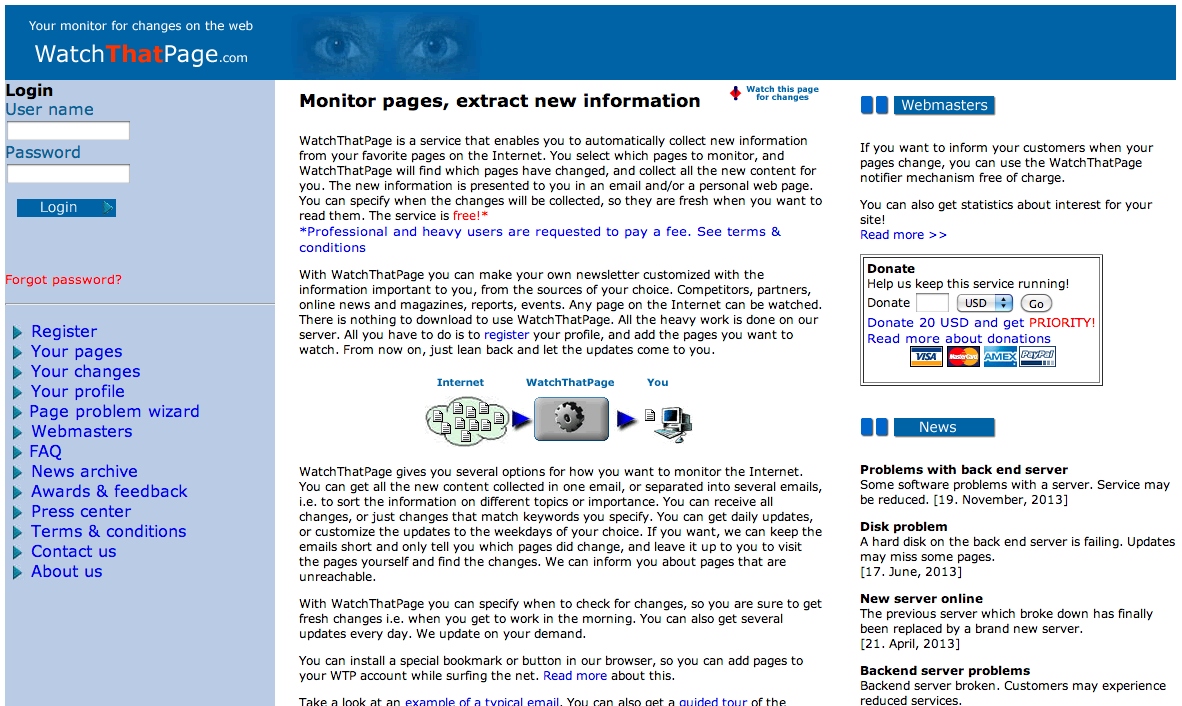 Watch That Page monitors websites for changes. I would watch WyzAnt's careers page to learn when it adds new positions or updates the page in some other way. That would be a signal to me that the company's gearing up to make active hires. (Which isn't to say that it's not hiring for the roles the page is promoting now. Just sayin'.) Hopefully, you get the gist of what I am sharing. If so, below are a few more Google News searches you might want to try. Feel free to add in cities and job titles to your search as well.
Do have your own ways to automate your job search? Share them in the comments below.