Last year, the Baltimore, Maryland metropolitan area saw thousands of new jobs in its innovation and technology-based industries. This year the region expects similar growth as companies in the area look to hire new tech talent and Maryland receives 30,000 defense and civilian jobs as part of a massive military reshuffling.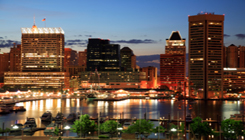 In 2010, the Baltimore region saw 15,084 new jobs worth $4 billion to the area, according to
a report
by the Maryland Department of Business and Economic Development. Most of the jobs were created by the U.S. military, federal government and defense contracting companies. Companies in the Baltimore area that are currently looking for tech talent include defense and aerospace companies like Ball Aerospace & Technologies, Lockheed Martin, Northrop Grumman and
Raytheon
. Even though recent federal budget issues have put a damper on future government contract work expectations, large defense contractor Northrup Grumman is still
looking to hire 171 tech professionals
and Raytheon is
looking to hire 65
, according to recent searches on Dice. Tech companies in the region include
IBM
,
Deloitte
, Applied Signal Technology, ManTech International, Praxis Engineering, Computer Sciences Corp. (CSC). A
recent search on Dice
found that CSC had 92 open positions. Maryland is in the midst of receiving
nearly 30,000 Defense and civilian jobs
by September 15, 2011, as part of the miilitary's Base Realignment and Closure (BRAC) project. Many of these jobs are in the Baltimore region, as Fort Meade receives thousands of new employees, including the entire staff of more than 4,200 employees of the Defense Information Systems Agency (DISA), by the end of the summer 2011. Plus, the newly created U.S. Cyber Command (CYBERCOM) is being situated in in Anne Arundel, Maryland. Cybercom is expected to create 1,000 security-related tech jobs as it anticipates spending the majority of its 2012 budget hiring new talent to defend the nation¿s IT infrastructure. The Aberdeen Proving Ground in the Baltimore area is receiving 8,800 military jobs and at least twice as many defense contracting posts. Because of the influx of thousands of new high-tech jobs in the are due to the BRAC moes, Maryland lawmakers are considering creating
a new university near Aberdeen Proving Ground
to train college students in engineering, systems analysis and other high tech areas.