It's tough to be a newly rich tech worker in the Silicon Valley/Bay Area, what with all those stock options, headhunter calls and the like. Not to mention taking the blame for driving up rents, increasing traffic and failing to fit in with the area's old guard. In a region usually known for its tolerance, new McMansions, all those extra cars and the rising cost of living have set up a culture clash that could transform the region.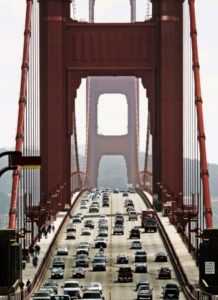 TechCrunch Co-Editor Michael Arrington
pressed the issue recently with San Francisco Mayor Ed Lee
, focusing on the dark side of the tech boom. Meanwhile, Vanity Fair will explore the
"Bluebloods & Billionaires" angle
in its upcoming issue.
Fight for Resources and Attitude
Northern California isn't the first to face such challenges. A similar clash played out in the Pacific Northwest. Back in the 1970s, Oregon became something of an anti-California curmudgeon, as some folks from the Golden State cashed out their homes, moved north and bought property at far cheaper prices in Oregon. Then in the late 1980s, Seattle adopted the anti-California attitude, observed John Findlay, a University of Washington history professor. Findlay, who in the late 1990s authored
Lesson One: Who Belongs in the Pacific Northwest
, drew parallels between the Bay Area culture clash and previous episodes of anti-California attitudes in the Northwest. "In both cases, you have people who are fed up and blame another group for driving up the price of rents, housing, car prices, more traffic or this, or that," Findlay told Dice News. "I think people blame their problems on other people for problems they created themselves." In other words, tech workers are becoming the new scapegoats for the Bay Area's ills.
Crunching Numbers
For example, let's take traffic. Are clogged roads the fault of all those damned tech workers? In Santa Clara County, the area's overall unemployment rate dropped from 11.1 percent in 2011 to 7.5 percent in 2012, according to the Bureau of Labor Statistics. Meanwhile, people who work in computer and mathematical occupations noticed little change in their level of unemployment rate, which edged down from 4.1 percent to 3.6 percent during the same period. What this presumably means is there were a lot more people -- beyond those in the computer and mathematical sector in Santa Clara County -- who are finding themselves employed and driving to work - increasing traffic levels. So people should be blaming an improving economy, not tech workers, for the additional traffic.
Blueblood Runs Cold?
It appears that the proverbial welcome wagon isn't making the rounds to all the tech
nouveau riche
residents of San Francisco's toney Pacific Heights neighborhood, according to Vanity Fair. San Francisco socialite Denise Hale, for one, told the magazine she's bored by Silicon Valley's tech executives and founders.
They're one-dimensional and can only talk about one thing. I'm used to brilliant men in my life who leave their work, and they have many other interests. New people eventually will learn how to live. When they learn how to live, I would love to meet them.
But will they want to meet you, Ms. Hale?