[caption id="attachment_16258" align="aligncenter" width="500"]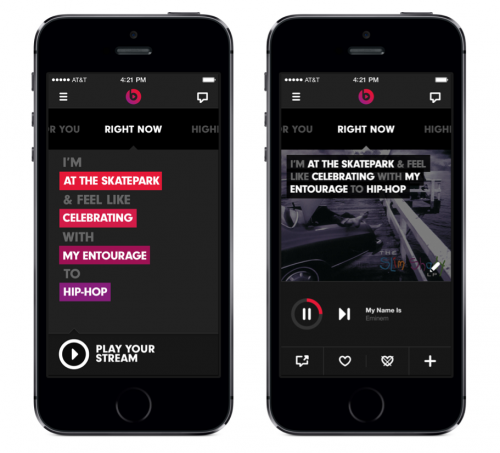 Beats Music relies on a number of inputs to curate playlists.[/caption] Streaming music is a crowded market segment: in addition to longtime stalwarts such as Pandora and Spotify, Google and Apple recently launched their own streaming hubs. It's also a tough business, at least from a margins perspective: users expect to pay very little—or even nothing—to hear music, while record labels demand tons of cash for the rights to artists' playlists. So how does a new streaming service carve out a sizable piece of that market? With its new Beats Music, Beats Electronics (best known for ultra-expensive earphones) is betting on a degree of artificial intelligence: the Beats Music platform will rely on algorithms to automatically determine the next best song for the listener. Think of it as a digital curator for music, a personalized guide to artists and albums that might otherwise sit undiscovered. "We wanted to build a music service that combined the freedom of an on-demand subscription service—unlimited, uninterrupted streaming and downloads of tens of millions of songs—but layer on top features that would give you that feeling only music that moves you can give," reads the
explanatory blog posting
on Beats' official Website. "The right song at the right time will give you a chill. Make you pull someone close. Nod your head. Sing in the mirror." The Beats Music service will launch January 21 and cost $9.99 per month for unlimited streaming. Supported platforms include Android, iPhone, and Windows Phone. Unlike Pandora and Spotify, it's wholly a subscription model, with no ad-supported "free" listening. In addition to the host of developers and music experts who've spent the past several months building the platform (and, presumably, negotiating with labels for the rights to various songs), other figures involved include Nine Inch Nails frontman Trent Reznor.
In a Jan. 11 interview with The Wall Street Journal
, Reznor suggested that he began to toy with the idea of a playlist capable of dynamic song adjustments after trying out Spotify and finding it "didn't suck me in." He later paired with Jimmy Iovine, chairman of Beats Music, after hearing that the latter was hard at work on a streaming service with similar goals. The Beats Music algorithm relies on a variety of inputs, including the user's location (songs streamed at work or home, for example, factor differently in the system's equation), genres of interest, gender, age, and much more. The strength of the resulting playlists will ultimately determine whether Beats Music succeeds; without that active personalization in place, the service risks being lost amidst all the other rivals out there. Flesh-and-blood music curators will also help make the necessary connections between songs, because machine intelligence only extends so far—sometimes the best linkages are more a product of human intuition than metrics. (
As Roberto Baldwin pointed out on Wired
, "just because you listen to Mumford & Sons doesn't mean you'd want to listen to a bunch of songs featuring banjos.") If Beats Music proves a hit, count on rival streaming services to introduce their own hyper-advanced algorithms. Call it better listening through analytics.
Image: Beats Electronics