Small and medium-sized companies can offer a level of camaraderie and responsibility not found in the corporate world. But picking the best of the best can prove challenging, because companies of this size often don't have huge marketing machines like Fortune 500 companies to tout the attributes and benefits of working at them.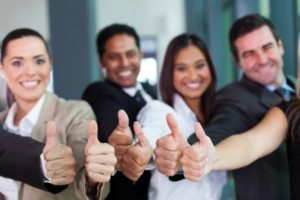 Fortune magazine and Great Places to Work released on Thursday a ranking of the
50 Best Small and Medium-Sized Companies to Work For
. And from this list of companies with under 1,000 employees, eight small tech companies emerged and 10 medium-sized ones. The winning companies come from a broad variety of industries and locations, each with its own unique set of perks and practices, according to a posting on Great Places to Work. Ironically, in some cases, notes Fortune magazine, perks like free food and yoga offered at large tech titans are similar to what small tech companies provide. As you'll see from this condensed list of the 50 Best, tech is well represented among small companies.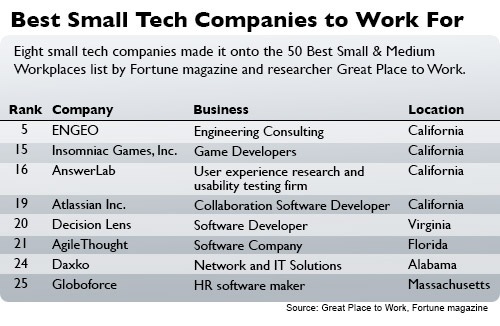 The rankings are based largely on employee surveys and a culture audit that a company's management has to fill out, which is then evaluated by Great Places to Work researchers. Workplaces are evaluated on five areas: credibility, respect, fairness, pride and camaraderie.
Small Company Mojo
Here is what Great Places to Work had to say about some of the small tech company winners:
Insomniac Games – Game developers who've really stretched their creative and technical abilities tend to get rewarded with game credits and royalty bonuses, along with wrap parties. The company also likes to instill a sense that it's ok to fail, and additionally holds show and tells with its employees.
Decision Lens – Employees of this software company are recognized for their work in rather out-of-the-box ways. A top-performing sales rep, for example, may receive an action figure that bears their likeness. Developers may score a reward of three blissful days to tinker on a creative project of their choice on company time.
Atlassian – The enterprise software maker retains its co-founders' "laid-back Aussie style," and after five years with the company, a worker may receive a paid vacation, or "holiday," worth up to $3,000.
Medium Company Mojo
Trust, or credibility, is one of the key principles needed in a great workplace, says Great Places to Work. It is the "defining principle of great workplaces – created through management's credibility, the respect with which employees feel they are treated, and the extent to which employees expect to be treated fairly."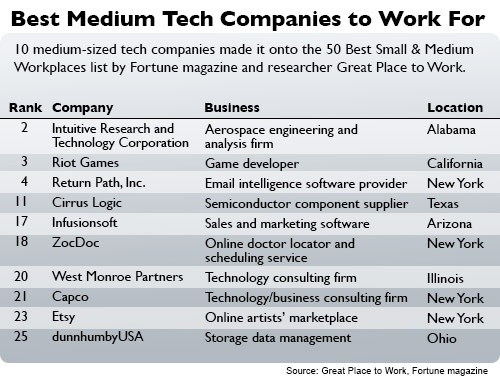 Here are the attributes listed for some of the medium-sized tech companies on the Best 50:
Infusionsoft – This Arizona software company doles out such perks keys to the company Camaro to the "employee of the month". And employees who are honored for delivering top notch customer service receive $500 and a day off. "There's a ton of ownership within every job," Infusionsoft's Talent Manager Lauren Tassiello told Dice News.
dunnhumby USA – This storage and data-management company encourages its 715 employees to think creatively during its semi-annual Innovation Fridays, where the company's staff comes up with ideas to improve customers' experiences. Zoo animals have even been known to show up at meetings.
Etsy -- Despite more than doubling its workforce in the past two years, the workplace of this online marketplace for handmade goods remains relaxed and the company's socially and environmentally responsible ethos is baked into many of its regular practices. What other company gives employees $100 to spend on decorating their desks from its offerings?
According to Great Places to Work, its model for evaluating companies is "derived from our definition of a great workplace as one where employees trust the people they work for, have pride in the work they do, and enjoy the people they work with." These companies have demonstrated their ability to engage their employees and apply management best practices, is says.