[caption id="attachment_10310" align="aligncenter" width="500"]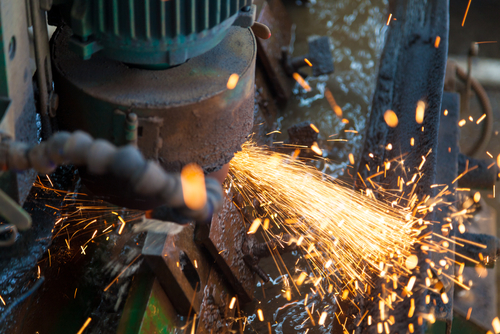 Industrial operations: better with sensors.[/caption] The software world is full of bitter rivalries: Google versus Apple, Salesforce versus Oracle, Microsoft versus pretty much everybody. But it's a rare thing when a tech giant ends up locked in tooth-and-nail battle against a behemoth better known for its non-software background. And yet that's exactly the rivalry that could be developing between IBM and General Electric. The latter has become obsessed with Big Data: in addition to
pouring $105 million into Pivotal
, an offshoot of EMC's VMware subsidiary that focuses on analytics and cloud applications, GE executives have spent the past several months promoting the "Industrial Internet," in which old-school manufacturing is strengthened via the addition of sensors and the latest analytics tools. "The next holy grail is about decision support and analytics," GE CEO Jeffrey Immelt told the audience at last year's
Minds + Machines 2012
conference, as quoted by
The Wall Street Journal
. In pursuit of that goal, GE developed Proficy Vision, which filters structured data (ERP, EAM, and more) and unstructured data (from spreadsheets and other sources) through a single dashboard, offering a streamlined view into industrial operations. IBM seems determined to deny GE and its ilk an unimpeded run of the Industrial Internet. Big Blue has just introduced nine Power Systems solutions for healthcare, retail, and "general industry." Each of these solutions comes with everything from predictive analytics packages to optimization tools. On top of that, IBM is introducing new analytics, cloud, mobile and social tools for its
PureSystems
integrated-systems platform. Like GE,
IBM believes that a combination of analytics and sensors
can help businesses engage in predictive maintenance, tracking issues in industrial processes and fixing as needed. As data analytics becomes more pervasive throughout all sorts of industries, it's likely that competition will increase between "traditional" software companies that have spent considerable time and resources on developing Big Data tools, and firms with other specializations that are entering the analytics marketplace in order to take advantage of a rising trend. If IBM and GE end up clashing in a more direct way for analytics clients, they likely won't be the only companies to do so. What's to stop, say, a soda-maker or
agriculture conglomerate
from marketing a proprietary platform for analyzing customers and inventory?
Image: zhangyang13576997233/Shutterstock.com