[caption id="attachment_17561" align="aligncenter" width="576"]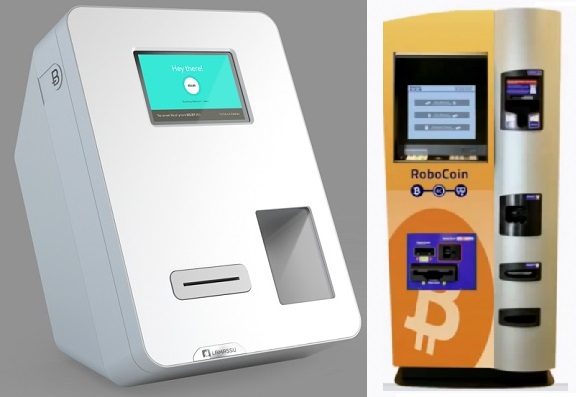 ATMs from Lamassu (l) and Robocoin(r) are the first in the U.S. to offer Bitcoin.[/caption] After months of speculation about the viability of digital cash (and the notoriously volatile Bitcoin in particular), two ATMs have shown up at opposite ends of the country offering real-world access to crypto-currencies. The first was installed in a cigar bar, Imbibe, in Albuquerque, N.M. by a company called Enchanted Bitcoins, according to a
Feb. 18 announcement from Lamassu,
the company that manufactured the ATM. As the operator of the machine, Enchanted Bitcoins is responsible for holding the private key to the machine, loading it with Bitcoins, and setting fees and prices,
according to Lamassu.
Enchanted Bitcoins has to register with the U.S. Dept. of the Treasury as a Money Transmitter, establish proper record-keeping and reporting procedures, and create an anti-money-laundering plan, just like the owner of any other ATM. The Treasury Dept.'s
Financial Crimes Enforcement Network (FinCEN)
extended real-world money-transfer responsibilities to
digital currency service companies in March 2013.
New Mexico is one of only two states that doesn't require a separate money-transmitter business license to operate, according to a
Feb. 18 story in Upstart Business Journal.
Eric Stromberg, CEO of Enchanted Bitcoins, got his machine into operation just barely ahead of competitor Robocoin, another Bitcoin ATM manufacturer that installed the world's
first Bitcoin ATM in Vancouver in October.
Lamassu, with the help of quick regulatory compliance work from Enchanted Bitcoin, edged Robocoin out for the first installation in the U.S. by rushing the Albuquerque unit into place, despite a
Feb. 18 announcement from Robocoin that it would install its first U.S. unit
in Austin, Texas the following day. Lamassu doubled down by getting its second unit installed in Boston's South Station commuter hub Feb. 19. The unit went into operation just one day after being delivered to its new owner,
New Hampshire-based Liberty Teller,
according to CoinDesk. Liberty Teller got its own version of bragging rights as well, by being the first ATM installed in an open, public location, but won't be launched publicly until Feb. 21.
Liberty Teller owners Kyle Powers and Chris Yim
also went out of their way to make the often arcane world of cryptocurrencies digestible to passing consumers. While it might be easier to go to Blockchain.info, download a digital wallet and create online links to accounts through which they can spend their Bitcoin, commuters only have to
follow four simple steps at the kiosk itself:
1. Get a Liberty Teller paper wallet at the machine 2. Scan your wallet's address QR code 3. Insert cash 4.Receive Bitcoin "We're going to bring in a ton of traffic, and that's going to be attractive to businesses that want to present a high-tech focus, as well as one that's consumer friendly,"
Yim told Coindesk.
Image: Lamassu/Robocoin