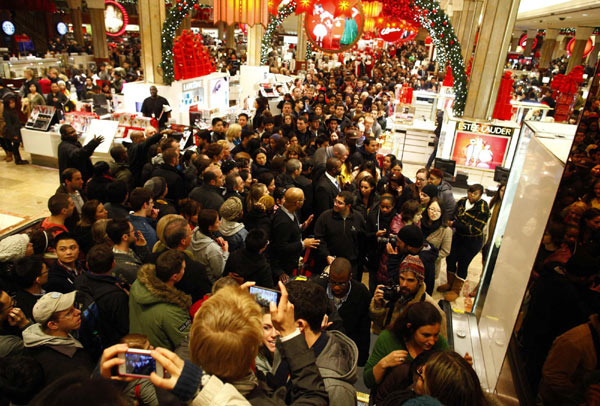 It was a tough week for Americans -- as least in terms of energy -- as we celebrated Thanksgiving and then Black Friday. The good news: This was one of the strongest Black Fridays ever, with consumers spending $11.4 billion across the country. That's 7 percent more than the nearly $10 billion spent in 2010.
The National Retail Federation's report, released Sunday, says a record 226 million shoppers were busy both online and off (compared to 212 million last year), spending an average of $398.62.
Online sales were up with 18 percent on Thanksgiving day, and 26 percent on Black Friday itself. Comscore says
$479 million was spent on Thanksgiving
and $816 millions on Black Friday.
The craziness seems to have impacted several websites, including Amazon or Walmart. Despite that, the companies managed to be among the most visited retailers in the country. Smart entrepreneurs who had the inspiration to launch websites related to Black Friday offers had their efforts recompensed. For example,
bfads.net
had 3.9 millions visitors last Monday through Thursday. So, whether we're talking about shopaholics or big retailers, the last week of November was a massive success. It was the perfect moment to go out shopping, because you had the opportunity to find great prices and save some money. And, you helped a the economy But rest your wallet. "The most wonderful time of the year" is almost, here and you'll have more gifts to give to friends and family.