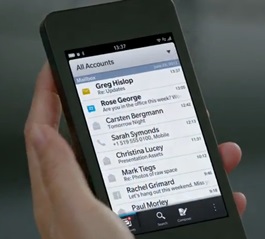 BlackBerry apparently believes in spending money to save money, giving its employees plenty of ammunition to lob at the struggling company. The smartphone maker reportedly shelled out millions of dollars for a corporate jet that was delivered in July, while at the same time
posting weaker than expected earnings and saying it would continue with its cost cutting
, aka layoffs. BlackBerry, according to the Wall Street Journal, purchased a Bombardier jet to add to its existing two-plane fleet. These planes cost anywhere from $25 million to $29 million, the Journal says. But on Friday, BlackBerry announced plans to
cut its remaining workforce by a staggering 40 percent
, while dismal sales of its Z10 smartphone forced a $1 billion write down of unsold merchandise. As a result of the financial straits BlackBerry finds itself in, the Bombardier is going bye-bye, as well as the other two planes, according to the Journal. Employees, nonetheless, have plenty to grouse about as their company is cutting four out of every 10 workers. After the layoff announcements, more than
30 BlackBerry employees gathered at a nearby sports bar to commiserate and compare notes
, according to the Journal. Employees pointed out that following the company's August announcement to seek strategic alternatives including a sale, confusion shrouded future projects and managers sent mixed messages to the workforce. And although some employees are still tasked with working on new phones for BlackBerry, they note the company's prognosis is bleak. Empty parking lots and cubicles can now be found at the company's Waterloo, Ont., headquarters, according to employees speaking to the Journal. They described a condition where "no morale" exists and comparing the company to a hospice. BlackBerry employed 12,700 people as recently as March, and the latest cuts—about 4,500 employees—will weigh heavily on this town of about 100,000 people 68 miles west of Toronto, according to the Journal.
Compounded Problems
Adding to the company's troubles,
BBC News
reported Monday that the release of BlackBerry's free Messenger app for iPhones and Android devices, scheduled for today, has been halted after the software was released prematurely. "A version of the Android app was posted online on Friday - a day ahead of its scheduled launch - and was subsequently shared via the Crackberry forum," the BBC reported. BlackBerry said that version caused unspecified problems and has halted the rollout of the messenger app. The company also announced it would exit the consumer smartphone business, retreating to its core strength in mobile device security. Besides it own devices, BlackBerry also offers security for Apple iPhone and Android smartphones. The Journal called the move "risky" but noted the collapse of hardware sales left the company little choice. Reuters called the move away from consumers "
unlikely to stem decline
." "Perception is nine tenths of reality and if customer and supplier confidence continues to fall it doesn't matter how much cash they have on the balance sheet. Things could get worse," GMP Securities analyst Deepak Kaushal told the news agency. Blackberry said revenue in the quarter that ended Aug. 31 would be about $1.6 billion, down from $2.9 billion a year earlier. About half of that $1.6 billion was from services. The company's second quarter earnings are due this week.