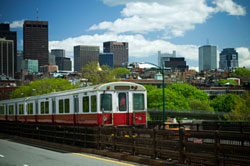 Verizon Makes Cloud Move with Purchase of CloudSwitch:
Verizon Communications is taking a "step forward in defining the enterprise cloud." This is the result of their planned acquisition of CloudSwitch, a Burlington-based software startup, which they will combine with their Terremark IT services division. Just three years old, CloudSwitch creates a temporary work space where companies can run virtualized apps as if they were still running on their own infrastructure. "Our founding vision has always been to create a seamless and secure federation of cloud environments across enterprise data centers and global cloud services," said CloudSwitch CEO John McEleney. "Together, we will be able to provide enterprises with an unmatched level of flexibility, scalability and control in the cloud."
Xconomy
Massachusetts Advances in Ocean Energy:
Plans to develop an ocean-based, renewable energy industry here moved forward with the successful test of a tidal turbine and the announcement of a planned, 300-square mile test site, a first in the U.S. The test, led by the Marine Renewable Energy Center (MREC), involved lowering a tidal turbine into the Muskeget Channel to capture ocean current energy and measure environmental impact. Energy generated by the turbine was captured by storage technology from Boston-based FastCAP Systems. The MREC initiative is designed to incubate wave, tidal and offshore wind technology to capture a significant amount of an estimated 500-plus gigawatts of energy available off the coast of New England.
South Coast Today
Party Like a Startup Pirate:
Some local entrepreneurs will host a pirate-themed booze cruise on Sept. 8 that is open to 1,000 startup founders, mentors, employees, interns, investors, vendors and enthusiasts. The party planners, Rentabilities CEO Alex Cook and MessageAMP Marketing Director Howard Davidson, are former and current MassChallenge finalists. "It is a party designed to celebrate entrepreneurship and start-ups and kind of highlight Boston as a great place to start companies," said Cook. "There's a lot of networking events in Boston, but a lot of people say there aren't enough parties."
The Boston Herald
Local Biotech Leader Gets Funding, New CEO:
Soon after raising $4 million in a second funding round, Cambridge-based Lantos Technologies announced a new chairman and CEO: local biotech executive Jeffrey C. Leathe. Lantos is developing 3-D imaging technology for digital mapping of the human ear canal, so manufacturers can make more comfortable audio devices such as hearing aids, earphones and noise-canceling devices. The technology came from the lab of co-founder Douglas Hart, professor of mechanical engineering at MIT.
Boston Business Journal
The Echo Nest Plays a New Tune:
Somerville-based The Echo Nest has found an important partner for its music intelligence platform. It will help eMusic, a digital music provider, provide music lovers with a set of audio discovery applications. eMusic Radio, now in beta, features dozens of radio programs with staff-selected playlists, music writers and industry experts to create your own, personalized channel. The partnership means eMusic will leverage The Echo Nest's Playlist and Taste Profiling engine to power customization using attributes like song similarity, artist connections, tempo, danceability and key.
Bostinnovation