[caption id="attachment_5052" align="aligncenter" width="580"]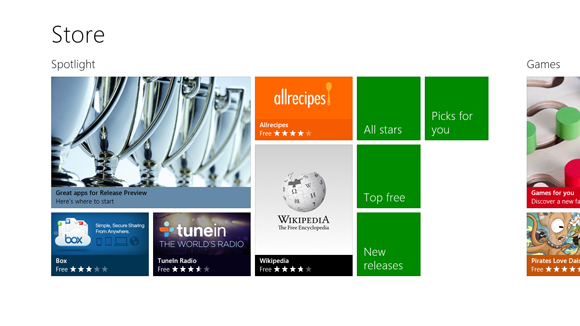 The Windows Store.[/caption] If the number of available apps means the difference between life and death for a typical mobile platform, Microsoft might have some worrying to do.
A new report by WinAppUpdate.com
suggests that Microsoft's Windows Store had 3,610 apps available for download by Oct. 3, less than a month before Windows 8 arrives on store shelves. An average of 118 apps apparently arrive in the store every day, meaning "the Windows Store will indeed be at over 5,000 apps by launch day." According to WinAppUpdate, some 18 percent of the U.S. English-language apps in the Windows Store are Games (18 percent), followed by Entertainment (13 percent), Tools (10 percent), Education (9 percent), and News & Weather (also 9 percent). Productivity, Books & Reference, Music & Video, Lifestyle, and All Other Categories follow relatively close behind. At that rate of 118 new apps a day, it'll take the Windows Store roughly 816 days to reach 100,000 apps. But 100,000 apps by January 2013 is apparently Microsoft's goal, as Microsoft vice president Keith Lorizio
told Beet.tv
. "Unless there are going to be tens of thousands of Flashlight apps introduced between now and January," Mary Jo Foley wrote in an Oct. 8 posting on her
All About Microsoft blog
, "or unless someone's doing some funny figuring, I am really hard pressed to see the Windows Store revving up this quickly." Moreover, if Microsoft isn't going to sell Windows Phone apps through the Windows Store—despite some
tight integration between the Windows 8 and Windows Phone 8 code
—that could make it that much harder to break that six-figure barrier. By shoving the "traditional" Windows desktop interface behind a Start screen composed of colorful tiles linked to applications, Microsoft transformed Windows 8 into an operating system equally adept at handling the needs of both traditional PC and tablet users. Those using Windows 8 on a tablet can simply touch the tiles to access whatever they need; power users and traditionalists on a keyboard-and-mouse PC can click on one particular tile to access an updated version of the desktop. Microsoft hopes that Windows 8 will make significant headway in the tablet market, which is currently dominated by Apple's iPad and a mix of devices running Google Android. But Apple and Google offer hundreds of thousands of apps on their respective platforms, many of them high quality. If Microsoft wants to compete, it will need to convince third-party developers to build for the Windows platform—and build fast.
Image: Microsoft