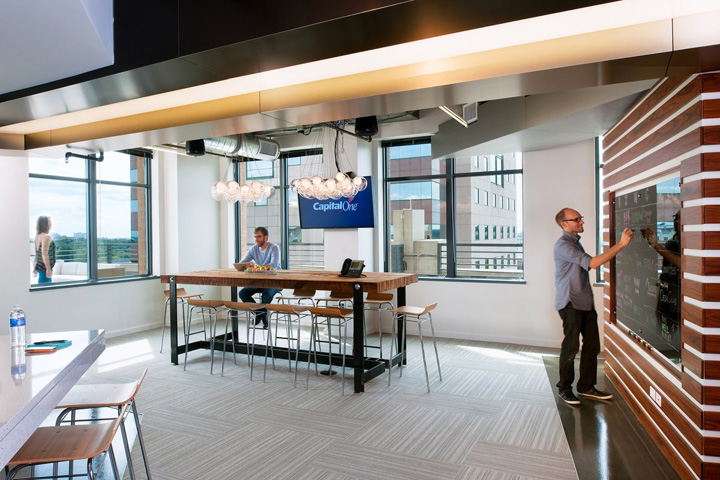 Capital One Financial Corporation
is a U.S.-based bank holding company that specializes in credit cards, home loans, auto loans, banking and savings products. Headquartered in Tyson's Corner, Va., it's a pioneer in the mass marketing of credit cards—so much so that the company is now the fourth largest customer of the U.S. Postal Service. The company has approximately 45,000 associates and major operations in 15 cities across the U.S., Canada and the U.K. Nearly 5,800 people comprise the tech team, according to Brian Riley, the company's head of technical recruiting. Currently, it's in the process of insourcing a number of technical roles. Riley says he's hiring
software engineers
(
Web
,
data
and
mobile
),
data engineers
and
data scientists
,
cloud engineers
,
network and systems engineers
,
cybersecurity specialists
and
Agile Scrum masters
.
Click here to find data engineer jobs.
Capital One wants to hire developers with exceptional programming skills and the ability to work on Agile teams. The company's primary technologies include
Java
,
.NET
,
iOS
and
Android
, but it also welcomes developers who "use a different language and are willing to learn something new." Engineers with experience using
Ab Initio
/
Teradata
,
Hadoop
,
Pig
and other
Big Data
technologies are also needed.
How to Read a Job Posting
All of Capital One's job postings list "basic qualifications," which are requirements to be considered for the role, and "preferred qualifications," which are considered an added bonus. Riley says candidates should match their qualifications with jobs that are most interesting to them, rather than apply for a range of positions that may or may not fit with their skill set. If you know someone who works for Capital One, he suggests that you talk with them about the environment before applying. A conversation with someone in-house will only help you match your skills and personality to the right job in the best location.
The Hiring Process
"At Capital One, we have an interview process that is designed to select the best people, so we invest the time in getting to know the candidate to make sure we're a good match," says Riley. When in front of a recruiter, candidates should be prepared to talk about how they've handled specific situations throughout their career. They must be able to demonstrate their skills through cases or technical online assessments. The company offers practice assessments, interviews and cases online for those who are considering careers there. Riley is clear to point out that interested parties should "definitely take advantage of these tools."
What Makes a Good Fit?
"We value people who feel empowered to innovate and make our products better for our customers" Riley says. "We want forward thinkers who have a knack for simplifying while at the same time creating really cool, leading-edge products." Since Capital One's tech organization is so large, the company's partial to hiring colleagues who are comfortable working in teams and interacting with people at all levels and with a variety of backgrounds. Everything the team does is highly data driven, so it's important that candidates be able to work in an environment where really good, clean data is a part of the decision-making process.
See more Landing@ stories here.
Advice for Seasoned Professionals
Capital One is enthusiastic about people who have a diverse range of experience and career aspirations. "The key is perspective," Riley stresses. "We look for what an individual's experiences might contribute to their perspective in the broader work environment."
Advice for New Graduates
Capital One is keen to hire new grads. According to Riley, over 100 campus hires were brought into the tech fold in 2014. Substantially more will likely be hired in 2015 and beyond. Students and recent graduates should look for the company at school or reach out through its
campus recruitment site
.
Upload Your ResumeEmployers want candidates like you. Upload your resume. Show them you're awesome.
Related Articles