Although the gaming industry is known as a boys club, women in the business say the perception is unfair. Yes, they're underrepresented, and yes they face discrimination, but they believe breaking into gaming may not be any more difficult than it is in any other area of tech. The big difference, says Kate Edwards, executive director of the International Game Developers Association, is that the sector remains relatively young when compared to other parts of IT. That, she speculates, may impact any coordinated efforts to address the issue.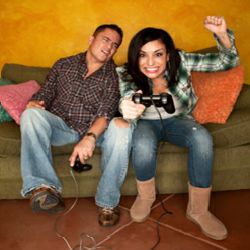 The gaming world includes well-known names, but it's also a business of independents. "Most typically, larger companies that have had some degree of longevity and experience with workforce issues, like gender balance, do a better job at being inclusive in their practices," Edwards observes. At the very least, they clearly state that they strive to be inclusive in their hiring practices. Plus, Edwards notes, "They also often have the resources to outreach to women in high school and college to reinforce their company as a viable and welcoming environment."
How to Break In
For women looking for
jobs in games
, then, persistence and focus is key. Sheri Graner Ray's career trajectory is a common one for successful industry veterans. She's worked for the biggies – as a writer and
designer
for Electronic Arts and a senior designer for
Sony Online Entertainment
– before starting her own ventures. In 1990, she began as a writer and designer at Origin Systems, a video game developer that's now part of EA. Today, she runs Zombie Cat Studios, an Austin startup that's working on a tablet video game that Ray won't talk about for now. She's also a consultant and senior design adviser for Pittsburgh-based developer Schell Games. Much of the advice Graner Ray gives to women could apply to men, as well: Have a passion for gaming, constantly network – even when you're already in a job – and build your own games with free tools like
Unity
. Still, Graner Ray says women in the industry do face added obstacles. "When I started out, maybe 3 percent of the industry was female," she says. "Today, it's only about 11 percent, and that includes marketing and human resources and not just development." That makes it even more important for women to stand out. Like Graner Ray, Samantha Kalman, artistic technologist at Seattle-based studio Timbre Interactive, says women need to the build their own games and bring the finished product to job interviews. "I think what helped me to be successful was talking to people about the projects I was working on and my plans, and committing to the long haul," she adds. "I try to talk to the game designers I admire, talking to them at conferences and on Twitter." Social media, she notes, is embraced by a large proportion of the game community.
Changing Priorities
Besides gender, women's careers are impacted by the fact that gaming is a fickle employer. Titles tank, or don't get through production, or small companies fail. "Unlike other parts of the tech world, gaming can certainly be less stable," says Belinda Van Sickle, president and CEO of Women in Games International. "The overall tech world is a lot older, and the gaming industry is new and hit-driven. There are a lot of contract jobs and lots of turnover." But there is hope that things are changing as the market for games expands, Van Sickle adds. "There are more people playing video games than ever before, and there are more women playing." As more women play, more companies focus on recruiting them. Kalman agrees, noting that gaming is a long way from the days of titles being made by men for men. "Today, if you expand the industry to include mobile and
Facebook
, there are more women playing games," she observes. "But people in the press aren't necessarily talking about that." There's a push to increase the number of women looking for gaming jobs, as well. "I've heard time and time again that one of the biggest issues is the lack of women who seem interested in entering a game development career," says the IGDA's Edwards. "While the industry has some genuine challenges concerning its demographic imbalance, the root issue is that we really need to bolster the availability of STEM programs for girls and young women, and get them interested in games as a career path."