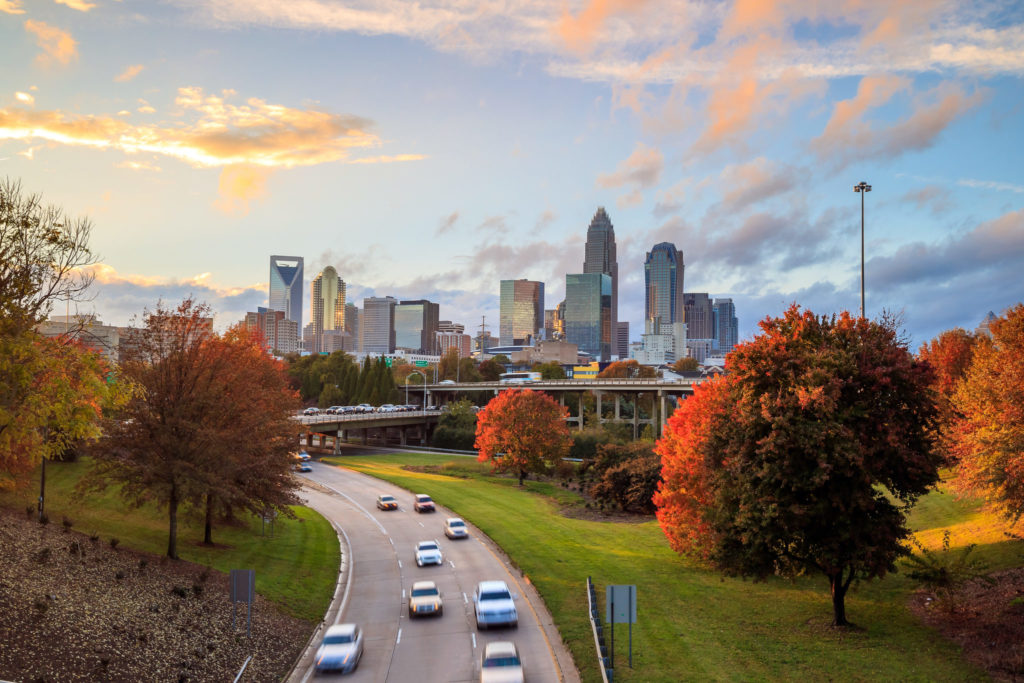 It's not too big and not too small—in fact, for many technology pros, Charlotte, N. C. is just right. Despite its astounding growth over the past several years, the city blends old-fashioned charm with the vigor of a rapidly expanding tech community. "Charlotte has become a top destination for young, educated professionals because it strikes an ideal balance between economic growth, quality of life and cost of living," explained Ted Abernathy, managing partner for Economic Leadership LLC, a consulting firm and developer of economic strategies. Nor Carolina's tech unemployment rate is just 3.4 percent. And while
average salaries
for mid-level tech professionals here are about the same as in similarly-sized metro areas (i.e., roughly $95,000 to $122,000), Charlotte's cost of living is 1.3 percent below the national average. The median home price is $189,508, and the average monthly rent is just $863. You might make less money than you would in San Francisco, but your "
Queen City"
salary can take you a lot further. "It's a friendly place," said Charlotte native Robert Jones, principal of Jones Grove IT recruiting. "Despite the fact that Uptown Charlotte has gone from being an 8-to-5 community to a vibrant, 24-hour community, people still say 'hi' to you on the street." Could Charlotte be the ideal place to have a thriving tech career and fulfilling personal life?
Market Snapshot
Prior to the Great Recession, banking, retail and energy dominated the local employment market, with Bank of America, Wells Fargo's east coast headquarters, Duke Energy and Belk department stores all calling Charlotte home. As layoffs mounted in the wake of that 2008 implosion, local business leaders, investors and universities pulled together to stimulate growth and expand the region's economic base. Their efforts have paid off: The region's annual GDP has grown to $132 billion, and Charlotte's economy and workforce have become more diverse. Today's job hunters can choose to work for an established company or a variety of tech
startups.
For instance, the area has become a hotbed of Big Data and analytics innovation, spurred by the development of the Institute for Advanced Analytics at North Carolina State, as well as the desire by banks and retailers to harness the power of data to deliver meaningful customer experiences. The region's financial technology (i.e., "fintech") sector has attracted investors and entrepreneurial activity as banks look for solutions and tools to transform back-office processes. There's also been an influx of companies that specialize in energy analytics, energy technology and sports technology, the lattermost supporting the region's thriving
Motorsports industry
. "Tech pros who move to Charlotte no longer have to worry where their next job is coming from," explained Brooks Raiford, president and CEO, North Carolina Technology Association. "They can switch industries or transition into a new job role without relocating."
Local Tech Vibe
Not a local? Not a problem. Charlotte's tech community is a melting pot for professionals from all over the world who love to hang out and share ideas. Jones says that about 25 percent of the tech candidates he places are from outside the area. "Charlotte may not be quite as sexy as Silicon Valley or Boston, but we're next in line," he said. There's no shortage of opportunities to rub elbows with fellow tech pros around town, or to keep your skills sharp: Locals can participate in meet-ups,
conferences,
and hackathons, or spread out in co-working spaces decked out with amenities. If distance learning isn't your thing, there are plenty of coding and career-building courses offered by
local organizations
, and UNC Charlotte provides
continuing education programs
and local
boot camps
. "The downtown area is a very lively place with lots of restaurants and bars and high-rise residential," Abernathy said. "Charlotte blends old and new. You can catch a glimpse of 100-year-old churches between the skyscrapers as you walk around Uptown."
Hot Specialties and Skills
The latest
State of the Technology Industry Report
reveals the impact of digital transformation in legacy industries on local employment. Business operations specialists account for 11.4 percent of all tech occupations in North Carolina, followed by software and application developers at 8.5 percent and computer systems analysts at 7.3 percent. Given the market's focus on analytics and business intelligence, database developers, analysts, architects and administrators are in high demand, Jones added. Employers are also looking for professionals who have experience with popular business-intelligence tools such as Microsoft, Oracle, SAP and IBM Cognos. Best of all, with employers filling about 10,000 tech openings annually throughout the state, there are plenty of opportunities to find your dream job. "Many employers are willing to provide $5,000 to $10,000 in relocation assistance for professionals with skills and experiences which are in short supply," Jones said.
Interview Like a Local
Business is personal, and relationships do matter in Charlotte. Out-of-towners need to make an extra effort to build up their networks before they start job-hunting, and connect with interviewers before diving into discussions about technology. "Charlotte is still a very networked community with a small town feel," Raiford said. "Everyone is connected to each other to some degree. People are eager to provide help and advice once you get plugged in." Doing your homework is always important for job seekers, but it's critical if you're considering a major relocation. Be ready to explain why you want to move to Charlotte, what's drawing you to the city, and that you understand the local culture and values. "Don't be shy," Abernathy advised. "Spend a few minutes on niceties and then transition into the core values that you will bring to the company."