Of course, you'd never cheat on a certification exam, but apparently plenty of others would.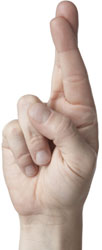 Apparently, unemployed and under-employed workers are taking desperate measures to get ahead. "IT professionals cheat by paying someone as much as $2,500 to take an exam or by using stolen tests purchased over the Internet commonly referred to as 'braindump' materials," writes
Carolyn Duffy Marsan
, a senior editor at Network World. So certification trainers and test administrators are using tools like biometric ID and customized exams to trip up anyone who tries to game the system. Fifty eight percent of the survey's participants believe using braindump materials is unethical, though 72 percent suspect that people do it. Twelve percent have seen cheating with their own eyes. CompTIA says cheating is up about 10 percent, with stolen test materials causing the biggest problems. Of course when you cheat, the only person you hurt is yourself. Think of the one who cheats and lands a skill-specific job, then shows up without a clue as to which key to press first. In the long run, cutting corners on the way to certification isn't going to work anyway, so why bother taking the risk?