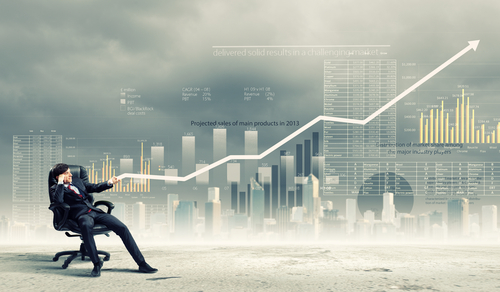 With more organizations investing in analytics, it was only a matter of time before the industry started talking about the rise of a chief analytics officer.
A survey of 317 business and IT executives
from the International Institute of Analytics, created at the behest of
Dell
, found that organizations with a high degree of analytical maturity are more likely to have a chief analytics officer, or someone with a similar title charged with collecting and managing an organization's analytics efforts. The survey also found that organizations are investing more to achieve that maturity, with two-thirds of mid-market organizations devoting more than $100,000 to analytics in 2014; a similarly large portion of enterprise organizations invested $500,000 or more.
To find data analyts jobs, click here.
But what's not clear is whether the role of "chief analytics officer" will become a widespread one, in the manner of CFO, CMO, or even CEO. There's always the possibility that the appearance of chief analytics officers is a temporary response to a perceived need by organizations to have someone capable of wrangling an ever-increasing amount of data, rather than continuing to rely on the gut instincts of executives who, while experienced, don't necessarily possess the necessary analytics background. Howard Dresner, principal for Dresner Advisory Services, suggested that, while there is no doubt that organizations which build formal "centers of analytics excellence" (whether people or divisions) generally perform better than those that don't, creating a chief analytics officer position might prove counterproductive. "I think that may be asking too much of one person," he said. "What you want is for the responsibility for analytics to be pushed down into the entire organization." Once a chief analytics officer position is created, Dresner noted, the organization needs to work out the corporate politics associated with the role. For example, how does with chief analytics officer interact with the chief information officer and anyone else within the organization who deals with data? While folks might disagree over the need for this particular position, there's a widespread certainty that the rise of advanced analytics is something of a redemptive moment for statistics. After decades of "lies, damned lies and statistics"-style derision, businesses have come around to the idea that predictions made via analytics platforms are, if not golden, certainly worthy of consideration. "I don't think people really appreciate what can be accomplished when using statistical modeling tools against 100 percent of the data," said Bill Franks, chief analytics officer for
Teradata
, a provider of data warehouse platforms. "It hasn't quite bubbled up to the executive level." While investments in Big Data vary widely, Franks noted that it's also becoming a lot simpler to share the results of all those analytics, thanks to the rise of, for example, standard RESTful application programming interfaces (APIs). That encourages more organizations to spend money on analytics in the hopes of gaining a competitive edge, because the return on that investment can be more easily realized.
Analytics Investment
Businesses are more invested in analytics than ever before. The difference now is that, rather than relying on a comparatively limited set of spreadsheet applications, organizations are starting to invest in not only more sophisticated apps, but also Big Data platforms such as Hadoop that make it much simpler for them to affordably extend the size and scope of their data warehouses. In fact, thanks to the rise of data virtualization, organizations can now use APIs to apply analytics anywhere the data resides, versus always having to move data into a central repository.
"The thing IT organizations need to remember is to make sure those APIs are not read-only," said R. Paul Singh, CEO of Espresso Logic, a provider of data virtualization tools. "Otherwise the analytics application won't be able to update the data source." The broader adoption of analytics is clearly a good thing for IT, in terms of creating demand for data management skill sets. But in the absence of a chief analytics officer, it might be challenging for IT to secure the budget and attention it needs to push analytics to the front of strategy.
Upload Your ResumeEmployers want candidates like you. Upload your resume. Show them you're awesome.
Related Articles
Image: Sergey Nivens/Shutterstock.com