[caption id="attachment_10469" align="aligncenter" width="600"]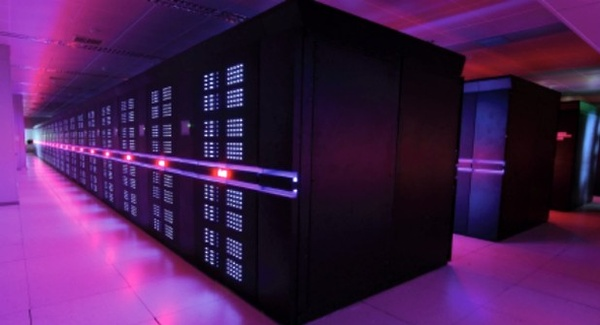 Tianhe-2.[/caption] A challenger from China took the top spot in the global supercomputer speed competition this week, boasting nearly double the speed of the U.S. champion it displaced. The Tianhe-2 supercomputer, built by China's National University of Defense Technology (NUDT), scored the top spot in the semi-annual competition run by
the Top500 Supercomputing site
, with performance more than twice that of the nearest competitor—the U.S.-built Titan that previously held the number-one spot. Tianhe-2's score of 33.86 petaflops per second on the Linmark benchmark for sustained performance is even more notable because many of the components that delivered that power were developed in China rather than adapted from Western systems, according to Top500 Editor Jack Dongarra. Tianhe-2 is built using a total of 3,120,000 computing cores divided among 16,000 nodes, each of which support two Intel Xeon Ivy Bridge processors and three Xeon Phi graphics processors. The Tianhe-2's mix of CPUs and high-performing GPUs (which act as accelerators by taking much of the graphics effort away from the CPUs) is actually becoming fairly standard at the top of the supercomputing list, according to Dongarra, a draft of
whose detailed report gave an early peek at the Tianhe-2
in the weeks before results were announced. In all, 54 of the top 500 supercomputers used architecture based on accelerator/co-processors—of which 39 use Nvidia chips, three use ATI Radeon and 11 use Intel's Xeon PHI. Despite the reliance on Intel processors, the Chinese-developed technology within Tianhe-2 and its predecessor, the former Top500 No.1 supercomputer Tianhe-1, shows that China's abilities in high-performance computing are catching up with those of the U.S., Dongarra wrote: "Most of the features of the system were developed in China, and they are only using Intel for the main compute part." In other words, "the interconnect, operating system, front-end processors and software are mainly Chinese." China has 55 Top500-listed supercomputers, ahead of every other country except the U.S., which has 252. The next-closest nation on the list is Japan, with 30 supercomputers. In Europe, the U.K. leads with 29, followed by France with 29 and Germany with 19. Competing for top honors in supercomputing is more than the IT equivalent of a space race between political rivals, however. High-performance computing—up to and including supercomputers—are becoming far more important elements in the data-driven management and design functions in major corporations. Sales of supercomputers rose 65 percent between 2009 and 2010, and another 29 percent between 2011 and 2012,
according to a report on the global technical server market
released this month by market researcher IDC. "HPC technical servers, especially supercomputers, have been closely linked not only to scientific advances but also to industrial innovation and economic competitiveness," wrote Earl Joseph, head of technical computing at IDC and lead author of the report. That kind of computing power seems like drastic overkill for the needs of most corporations, but supercomputers have increasingly been used by even mid-sized firms for everything from detailed simulations of truck aerodynamics
to packaging
. The same CPU/co-processor architecture in supercomputers is also taking over the lower-end, enterprise-class high-performance computing market as well,
according to an IDC market survey published this week
. Only 28 percent of HPC servers used the architecture in 2011, compared to 77 percent now, that report showed. Two thirds of the HPC end-user sites polled by IDC use HPC systems for big-data analytics, which make up an average of 30 percent of the total workload of those servers. Most of the elite supercomputers in the Top500, however, are dedicated to scientific or defense work. Titan, the former Top500 title holder and a Cray, Inc. XK7 system, is one of the few "open" supercomputers that can be used by outside researchers who request permission from the owners.
Image: Top500