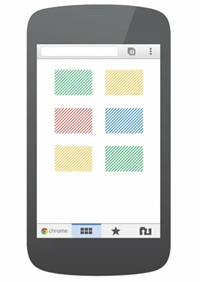 Android and Chrome, both Google's darlings, have
finally got together
. Feedback from tech journalists who've got their hands on the new Android browser are generally positive. Most, if not all, agrees that Chrome for Android is better than the native Android browser, in most areas but one — no Flash support. Unlike the stock Android browser, Chrome for Android does not support Flash content, and according to
Adobe's blog post
, it would stay that way. Just last November, Adobe announced its decision to stop developing Flash Player for mobile browsers, proving Steve Jobs's right all these while. Back in the days when Android was still the underdog, many of its commercials focued on two things: the Android's spec sheet and the inability to use Flash on the iPhone. In fact, Verizon made Flash support the first thing to mention in an Android tablet commercial last May: [youtube http://www.youtube.com/watch?v=R18SPF1fCik?rel=0&w=560&h=315] In all likelihood, Chrome is headed to be the default browser for Android, and that could mark the end of Flash support on Android, a feature once considered important. That shouldn't have much impact on majority of the users, considering the immense popularity of the iPhone even after five years without Flash support.
Ice Cream Sandwich
Even if you are ready to sacrifice Flash for a better browser, there's still another barrier to getting Chrome for your Android smartphone or tablet. Chrome for Android will only work on Android 4.0 Ice Cream Sandwich devices. In other words, unless you have the latest Android smartphone or tablet, like the Samsung Galaxy Nexus, chances are your device wouldn't be able to run Chrome. As of January,
less than 1 percent
of all Android devices are powered by Android 4.0 or higher, so don't get too worked up if you're not in the privileged minority. Even if you're in the 1 percent, it doesn't mean that you could run Chrome for Android either. As of now, Chrome for Android is only available for users in the following countries: United States, Canada, United Kingdom, France, Germany, Spain, Australia, Japan, Korea, Mexico, Argentina and Brazil. Tough luck for those living in other countries.