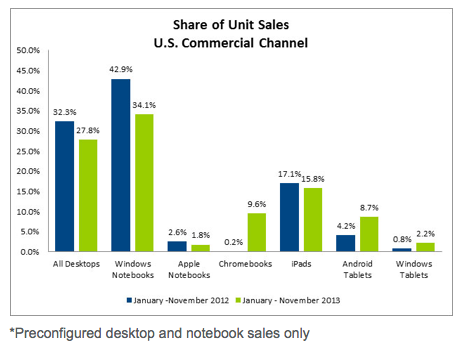 Maybe Microsoft and Apple should start worrying more about Chromebooks.
According to research firm NPD Group
, Chromebooks—which run Chrome OS, Google's PC operating system—accounted for 21 percent of all commercial notebook sales in 2013, up from a "negligible" percentage in 2012. On a broader level, Chromebooks seized 8 percent of all commercial tablet and PC sales through November, a significant increase from the one-tenth of one percent claimed the previous year. Roughly 1.76 million Chromebooks and Android tablets flowed through commercial channels between January and November, an increase from 400,000 units in 2012. "The market for personal computing devices in commercial markets continues to shift and change," Stephen Baker, vice president of industry analysis for NPD, wrote in a statement accompanying the data. "New products like Chromebooks, and reimagined items like Windows tablets, are now supplementing the revitalization that iPads started in personal computing devices. It is no accident that we are seeing the fruits of this change in the commercial markets as business and institutional buyers exploit the flexibility inherent in the new range of choices now open to them." Tepid sales of Windows PCs created an opening for alternative operating systems, Baker added: "As businesses upgrade from older machines and operating systems in the year ahead, the long-term trend is clearly towards greater hardware diversity, which all manufacturers will need to embrace in order to continue to grow." Google clearly wants a bigger slice of the enterprise market, not to mention a hefty chunk of government business—it's engaged in some highly publicized fights with Microsoft over municipal and federal contracts, for instance. In October, Google chairman Eric Schmidt
told an audience at this year's Gartner Symposium/ITxpo
that Android is more secure than an iPhone—something which drew laughs, but seemed a clear play toward the businesspeople in the room who make corporate buying decisions. By releasing a series of ultra-cheap Chromebooks with decent specs (including the ability to power up via an Android smartphone charger), Google's clearly moving to the next stage: muscling in on Windows and Mac OS X territory. But are Chromebooks an existential threat to those rival PC platforms? Microsoft seems to think so, having launched a series of
vicious attack ads
that denigrate Chrome OS as ineffectual for daily needs. And it's easy to see why Microsoft is freaked out, considering how Dell and Hewlett-Packard—two longtime Windows OEMs—have added Chromebooks to their portfolio. But how much market-share Chromebooks can ultimately gain is, of course, the multi-billion-dollar question.
Image: NPD Group