[caption id="attachment_10941" align="aligncenter" width="500"]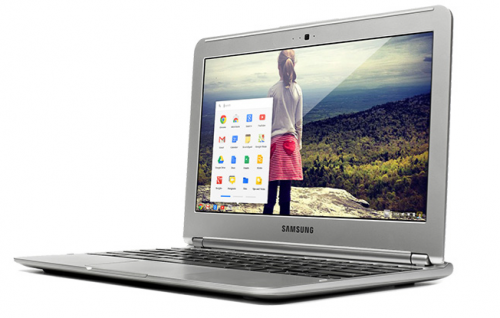 Chromebooks: Not yet an existential threat to Windows, but making some gains.[/caption] Are Chromebooks the new netbooks? A few years ago,
netbooks
were the darling of the PC industry: their low cost and small size made them exceedingly popular with consumers, although their weak hardware also rendered them pretty much useless to power users. And while manufacturers profited from netbooks' popularity, the form-factor's low margins eventually drove many of them to release more expensive "ultra-thins" that offered the same sort of portability at a higher price point. According to research firm
NPD Group
(as reported by Bloomberg), Chromebooks haven't reached the same sales level as netbooks at their peak—but the devices, which run Google's Chrome OS and often come at lower price-points than many Windows laptops and Apple MacBooks, have managed to seize nearly a quarter of the U.S. market for laptops that cost under $300. "While we were skeptical initially, I think Chromebooks definitely have found a niche in the marketplace,"
Stephen Baker
, an analyst at NPD, told Bloomberg. "The entire computing ecosystem is undergoing some radical change, and I think Google has its part in that change." But does that mean Chromebooks are on their way to seizing a far larger swath of the bargain-laptop market? That's a question that Google would probably like answered in the affirmative, although Microsoft might take some umbrage at the idea. The ultimate success or failure of the Chromebook line could rest on whether the general population can accept Chrome OS, Google's PC operating system that's largely dependent on a Web connection (and built around Google services such as Gmail). While that need for always-on connectivity could turn off many users (so to speak), the prevalence of tablets and smartphones that require a 3G, 4G, or wireless link to deliver services may have also acclimatized more people to the idea of a PC that can't really operate offline. There's also the matter of cost. While the first generation of Chromebooks retailed for around $449, Google and its manufacturing partners have made a concerted effort over the past few quarters to lower the price of subsequent device generations. For example, the Acer C7 Chromebook starts at $199, while Samsung's most basic-model Chromebook retails for $249 and up. But not all Chromebooks are relatively cheap: Google and its partners are offering devices at higher price points, such as the HP Pavilion Chromebook ($329) and the Samsung Chromebook 550 ($449). Google owning a quarter of the market for sub-$300 laptops isn't exactly an existential threat to Microsoft or Apple. But if the trend continues, and if Google can carve out more room for Chromebooks in the more expensive tiers of the PC market, the game could potentially change in radical ways.
Image: Google