Businesses and their CIOs are warming up to the notion that online shopping at work isn't necessarily a bad thing, according to a survey from
Robert Half Technology
. Of the more than 2,300 CIOs surveyed, 70 percent either allow unrestricted access to online shopping services or access as long as it isn't excessive. That's a substantial difference from 2010, when a similar survey found less than half allowed such behavior. Perhaps a more telling metric is the percentage of CIOs who block access to online shopping sites altogether. This year, only 29 percent had such a policy in place. Back in 2010, it was 48 percent.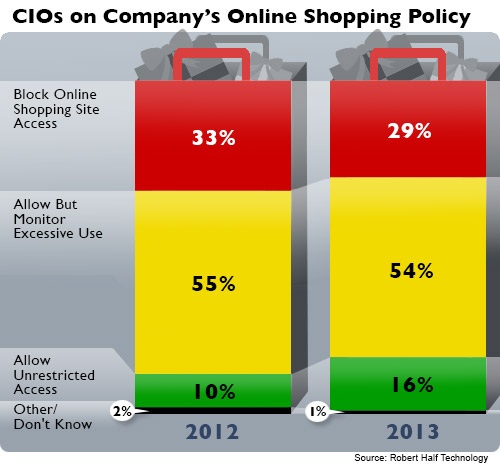 Companies may be discovering that restricting online shopping at work does more harm than good, RHT says. "Workers who are given this type of flexibility may be more focused and productive on the job because they're worrying less about getting through their holiday to-do lists," John Reed, senior executive director at RHT, said in a statement. Back in 2009, however, a survey by the Information Systems Audit and Control Association (ISACA) found businesses were likely
to lose roughly $3,000 per employee
due to lost productivity caused by online shopping in the workplace. In 2010, the ISACA expected employees to spend
an average of six hours
shopping online from a work computer or mobile device during the holiday season.