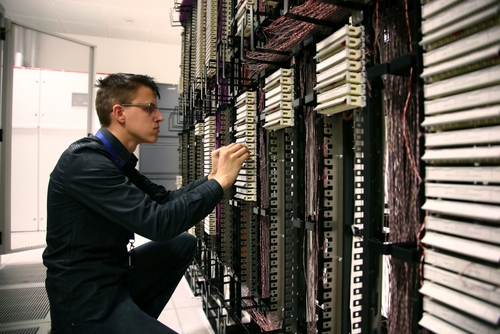 Cisco has announced the acquisition of vCider, adding software-defined networking expertise to counter rival VMware's recent acquisition of Nicira. Unfortunately, that means customers who have subscribed to vCider's service will only be able to use it through Dec. 31
via the vCider Website
. The vCider technology will be integrated into future Cisco products, and terminated as a standalone service. Specifically, vCider specializes in virtual network overlay technology for secure data center infrastructure. "So where does vCider come in?" Hilton Romanski, head of corporate business development at Cisco,
wrote in a blog post
. "The vCider team has created a multi-tenant distributed virtual network controller. vCider's code and technology will be integrated into our current development efforts of the OpenStack Quantum network service." Romanski added that vCider's programmable networking capabilities are becoming more important in today's multi-tenant data center. While it's true that pools of computing, storage, and networking are seen as increasingly critical pieces of the puzzle (see EMC chief executive
Jim Tucci's comments at Oracle OpenWorld
for more on that, including EMC's work to add software-defined storage pools to Cisco's network). Cisco's acquisition was seen as a competitive move after
VMware bought Nicira
. That put the SDN market and its technology providers in play. "In our view, Cisco's dominant share in switching puts it most at risk from SDN adoption," ISI Group analyst Brian Marshall wrote in a research note,
according to Reuters
. "The acquisition helps Cisco add software/virtualization expertise. We also see it in part as a response to VMware's acquisition of Nicira." In addition, vCider will apparently be tied to Cisco's Open Networking Environment. "With Quantum becoming a core OpenStack service, it's clear that programmable networking is quickly becoming an important component in large scale, multi-tenant, cloud computing environments," Romanski wrote. "Cisco's Quantum plug-in is designed to give application developers increased programmability of both virtual and physical networks linking the world of cloud computing to the advanced capabilities of Cisco's Open Networking Environment (ONE)." Cisco supposedly has three of its key engineers—Mario Mazzola, Luca Cafiero, and Prem Jain—working on Insieme, a spin-in venture focusing on SDN technology, but it has never officially been confirmed. "If Cisco is betting big on a Mazzola-Cafiero-Jain spin-in venture related to SDN—and past performance tells us that these ventures are never small wagers—it tells that the Cisco takes very seriously the threat posed in the data center by Arista, which has staked its own SDN ground, and by SDN startups such as Nicira," wrote
one IT networking blogger
. Separately, Cisco also named two presidents: Gary Moore, who will serve as president and chief operating officer, and Rob Lloyd, who will serve as both president and head of Cisco's development and sales organization. Moore's position remains relatively unchanged as an operations manager, while Lloyd will integrate both the development and sales aspects of the business. Cisco said that Pankaj Patel, executive vice president and chief development officer, will continue to lead Cisco's development organization, while Chuck Robbins, who previously ran the Americas sales region, will immediately assume Lloyd's prior role as the head of worldwide sales.
Image: Eimantas Buzas/Shutterstock.com