Every vendor who doesn't build their own hyperscale datacenters using their own gear must develop that capability quickly and achieve scale—or they won't get to play in the hyperscale universe that will emerge over the next several years.
A previous article on SlashDataCenter
examined how, for IT vendors such as Apple and Google, it could prove advantageous to develop their own internally-designed microprocessors for powering specialized workloads in their own datacenters. Now, it's time to examine the impact of mobile ecosystems on companies at the core of the PC ecosystem, namely Intel and other multinational OEMs such as Hewlett-Packard and Dell. With these firms, developing proprietary architectures will be a necessity, although they will have a few years in which to do so. Presenting customers and partners with open APIs creates a valuable open ecosystem, but the tightly integrated nature of the underlying hardware infrastructure simply requires internally-developed designs: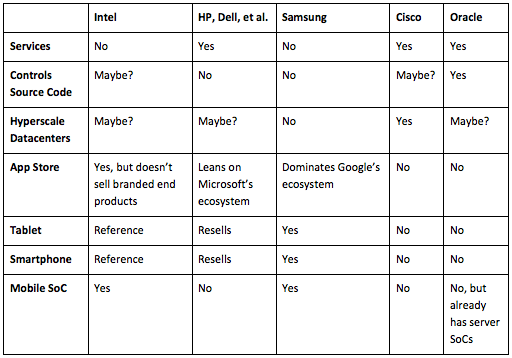 While Intel and Microsoft remain the reluctant duopolists of the PC market, Microsoft's decision to productize an ARM flavor of Windows 8—coupled with Intel's relentless funding of open source projects—show that both parties would prefer a new balance of power. However, the widespread dependence on "Wintel" PC architecture leaves Intel and the top OEMs in the PC market with a conundrum—they don't own app stores and ecosystems on the scale or popularity of Apple's iOS or Google Android.
Intel
has the biggest opportunity in the context of the Google Android and Microsoft Windows RT ecosystems—although it doesn't carry the same industry influence in the mobile market as it does in the core PC market, it remains a formidable competitor thanks to its ability to make huge R&D investments. Intel builds all of the required logic components for smartphones in-house, and has clear line of sight to DRAM and flash memory supply via its relationships and joint venture with Micron. The company has the capability to build finished end-use products as well, including smartphones. Intel's PC products design and manufacturing philosophy is a lot like Henry Ford's back in the day—everyone gets the same product, with some minor differences in performance. It's a single vendor without a custom SoC design methodology, competing with a host of ARM licensees building custom products and with overlapping cadences. While it's starting to position its
Atom product line
more aggressively for servers, it's mostly playing defense with its dominant Xeon brand and will have to step up its SoC design processes and number of products in-flight to compete better against merchant ARM SoC vendors. Intel and its
PC OEM "minions"
are also in the advanced stages of separation. The OEMs, including Dell, HP, Lenovo, and others, frame it as moving to a higher level of competition and becoming "services" companies—but the underlying market reality is that Intel and Microsoft have sucked all of the margins out of the PC market. It's a brutal place for a Fortune 500 company to try and eke out sustainable margins, and many of them have moved to the server market in an attempt to do so. However, the lack of OEM commitment to AMD as a second source processor vendor, coupled with AMD's own missteps, have all but eliminated differentiation between OEM mainstream server products, as they all depend on Intel for their core server technologies. The biggest systemic impediment to Intel and its large PC OEM customers is lack of end-to-end ecosystems and client app stores. HP almost fielded a credible client app ecosystem alternative with
WebOS
(formerly Palm OS), but then
tripped and face-planted
. Intel's
AppUp
program must be an education of some sort for them, because it
doesn't seem to be gaining any traction
. What we're seeing is a different twist on the same problem: while mobile software/app ecosystem vendors lack hardware capabilities, chip giant Intel can't compete in the software space. There is no end-to-end play back into the datacenters. Intel has historically relied on its close relationships with OEMs, but in the hyperscale server market they are focusing on ODM (original design manufacturers) and ESM (electronic systems manufacturers)—contract manufacturing capable of building high volume, low-cost server infrastructure. Intel featured server chassis products from Quanta, Tyan, and Foxconn at their last developer forum. Despite Intel courting server partners farther up the supply chain than the OEMs, there was also an early opportunity for HP, Dell, and other x86 server OEMs to partner with Microsoft to build Azure-based hyperscale datacenters—but for various known and hidden reasons, that
doesn't seem like it's still an option for the OEMs
. As those OEMs try to become "services" companies, they'll need to either build their own datacenters using non-Microsoft software stacks, or buy computing time from one of the winners. The big problem here is the "eat your own dog food" challenge–if the OEMs can't demonstrate hyperscale datacenters running with their gear, then their big hyperscale customers will be reluctant to purchase from them. It is a vicious cycle and a losing proposition to spend valuable resources against… if an OEM is already shuttering hardware-based product lines. It wouldn't be unfair to say that Intel is stuck within the enterprise IT space, and that most of their OEM partners will slowly exit the enterprise IT hardware business. In the second half of this decade, small and medium businesses could move quickly through hosting companies to the public cloud; meanwhile, larger businesses may move through private and hybrid clouds to outsource most of their workloads to public clouds, as well.
Samsung
wants to be the world's premier consumer electronics manufacturer, which puts it in direct competition with Apple, for whom it's manufactured many critical iPhone components. In the mobile space, the company's success has been buoyed by the Android OS, which now appears on 75 percent of the world's smartphones. Thanks to Android's success, Apple has slowly divorced itself from Samsung. Samsung has complete vertical control over their smartphone and tablet platforms—the company manufactures almost everything, from chips to the finished consumer electronics those chips enable. It would be a simple step for Samsung to build
server processor SoCs
. Creating a viable hyperscale datacenter infrastructure business is a lot more difficult than that, especially for a consumer-focused company. And there's an opening in the worldwide marketplace for a multinational that's headquartered outside of the US. It just remains to be seen if Samsung has the completeness of vision and will to carry through. If Samsung
steps up
and decides to go end-to-end, its biggest challenge will involve building a hyperscale datacenter of its own and learning to operate it at scale—and then trusting their own IT to it. The company's business success will fall out of how well it rises to their challenge.
Cisco's
Unified Computing System (UCS) is making
some headway
in the enterprise IT blade market as it consolidates market share away from some of the smaller OEMs and IBM. But Cisco is
not receiving attention
in new hyperscale and cloud datacenter build-outs. In the long run, Cisco's in-rack and top-of-rack (TOR) switches will be replaced by new rack-level architectures, while UCS will not be able to break out of enterprise IT–Cisco doesn't control enough of the other key ingredients to compete effectively outside of core enterprise IT markets, in which it's just another Intel OEM.
Oracle
is a wildcard. It's rarely safe to bet against Larry Ellison. With the right combination of Sun's former datacenter hardware R&D knowhow (including
Sun's former server processor design folks
and their expertise—Sun was first to small cores with their SPARC-based server processors), Oracle's systems software knowledge, and Oracle's ability to scale applications and databases into hyperscale workloads, the company could pose a credible threat in the space. Ellison has no issues at all running Oracle's business on
its own software
with
its own infrastructure
. In Oracle's case, there's a lot to be said for a strong central authority setting a clear direction.
House Rules
The datacenter universe will shift back to proprietary hardware infrastructure to support dedicated services. Open APIs sitting atop that proprietary hardware will enable them to competitively support large-scale merchant cloud instances and services hosting businesses. Future datacenters will not be focused specifically on processor, network, or storage; they will be tightly integrated across all three, highly scalable, and workload optimized. They will be hyperscale architectures. Merchant server processor SoC vendors must move rapidly up the value stack to design and sell end-use hyperscale infrastructure and find dance partners to achieve scale. The market window is open through 2016-2017 or so; if a firm don't achieve scale by then, it will be very difficult to cross the chasm.
Disclaimer:
I consult on a for-profit basis for companies mentioned in this article. I do not have financial positions of any kind with any of these companies, other than the for-profit consulting I have already mentioned.
Image: kubais/Shutterstock.com