[caption id="attachment_12986" align="aligncenter" width="500"]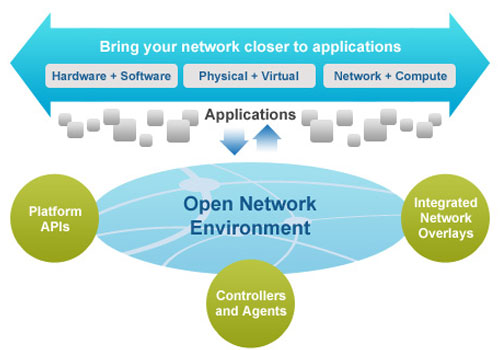 Analysts said Cisco support for overlay SDN is an effort to avoid alienating VMware customers[/caption] The latest editions to the datacenter end of Cisco's Unified Fabric series of switches are designed to be scalable, power efficient and support an approach to virtual networking the company has violently opposed in the past,
according to an Oct. 8 story in NetworkWorld.
The Nexus 3100 top-of-rack switches that Cisco announced Sept. 30 are designed for the hardware-based network-virtualization
Cisco touts
as the only reasonable approach to virtualizing networks without losing performance and control. It also supports the OpenFlow Software-Defined Networking (SDN) specification and VMware's NSX – which is designed to use software to overlay virtual-network controls on an existing network. VMware's efforts to get other vendors to support its overall approach caused a rift in the long-term relationship between the two vendors. It also sparked a series of
very public arguments between Cisco and VMware
over whether it's better to integrate virtual networking tightly into the hardware and ASICs processors to keep performance high, or abstract it in software as
VMware and other hypervisor developers have done with other technologies.
"While we share a common vision for private cloud and desktop virtualization, there are significant differences in our visions over the future of networking," according to an Aug. 29 blog from Cisco CTO Padmasree Warrior, posted to explain why Cisco didn't announce support for
VMware's NSX when it was announced three days earlier.
Software-only virtualization doesn't scale, doesn't provide real-time visibility of the physical and virtual infrastructure and doesn't allow for such "key capabilities" as support for more than one hypervisor, integrated security and end-to-end telemetry, Warrior wrote. Cisco's Application Centric Infrastructure is "an open programmable architecture with a comprehensive set of APIs that enables the broadest ecosystem of datacenter management," Warror wrote, without explicitly mentioning that it also requires quite a lot of Cisco hardware and that Cisco is, primarily, a hardware manufacturer. "Stay tuned for some exciting news from us in this area in the next few months." Warrior also didn't mention that the next big product announcement from Cisco might also support a virtualization approach Cisco abhors. Adding NSX support to the 3100 isn't a reversal of strategy for Cisco so much as a way of keeping competitors such as Arista from stealing market share by supporting a Cisco rival, according to
IDC analyst Brad Casemore, as quoted in NetworkWorld.
Neither is Cisco's support of OpenFlow and the open-source OpenDaylight SDN project, both of which compete with VMware. Cisco's support for them is designed to incorporate open-source SDN into Cisco's hardware-based architecture, not help it move away from the metal. Cisco and VMware are still partners in other market areas – converged infrastructures, desktop and mobile virtualization and cloud, for example. The competition over hardware-vs-software network virtualization is just getting started, however, and is already splitting other networking vendors into supporting either Cisco or VMware, according to NWW. The upshot is that Cisco's Nexus 3100 may support NSX and may do SDN with less of a hardware requirement than previous Cisco switches, but is not an invitation for VMware customers to go heavy on the Cisco hardware under the assumption all their NSX-based virtual networking will be fully supported in the future. It may very well be, but "we are at a point where sides are being chosen," NWW quotes 451 Research Group analyst Eric Hanselman as saying. Neither VMware nor Cisco can afford to drop support for the other; but as virtualization and cloud technology blur the lines between traditional categories of networking and datacenter products, the relationships among Cisco, VMware and other vendors will continue to get far more complicated.
Image: Cisco Systems, Inc.