[caption id="attachment_12657" align="aligncenter" width="600"]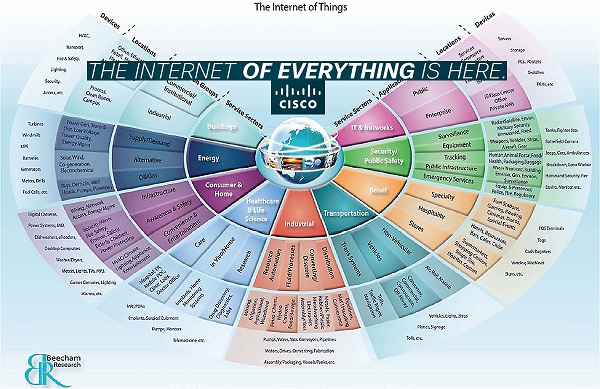 Cisco wants to be the one connecting all 37 billion 'things' by 2020[/caption] In 2008, the number of things connected to the Internet exceeded the number of humans on Earth, according to Cisco Systems. By 2020, Cisco added,
there will be 50 billion "things" connected to the Internet,
compared to roughly 7 billion humans. From a marketing perspective, it makes sense that the world's largest networking vendor would switch its focus from providing connections for humans to serving "things" instead. It hasn't quite done that, though
Cisco has been among the leading evangelists of the "Internet of Everything."
The Internet of Things (IoE),
as Cisco execs have described it
, is more than just a simpler, cheaper way to connect intelligent devices by giving them an IP address and Internet connection. The IoE is a way to automate the world in ways never before available to humans,
according to Cisco's economic analyses and
other research on the subject. For businesses, it could improve asset management, improve employee productivity, knock out what are still appallingly large gaps in visibility into supply-chain and transportation networks, improve customer service (by allowing vendors to talk to the product rather than the customer, presumably), and make innovation simpler by providing a single, global network to which any "thing" can be connected to those who need to monitor or control it.
Improvements stemming from the IoE
will be so great, it could
increase global private-sector profits by 21 percent between now and 2022,
according to another Cisco analysis, putting $14.4 trillion literally (or at least literarily)
"up for grabs," according to Cisco blogs promoting IoE,
the potential profits to be wrung from it and, by implication, the inevitable slide into mediocrity and failure of those who fail to jump on board quickly enough. "Things" like driverless cars, autonomous robots, intelligent security and HVAC automation systems are a big part of the IoE picture, but it is
"Connections (not Things) [that] Will Change the World,"
according to Cisco Chief Futurist Dave Evans. By making every "thing" remotely accessible to be monitored, controlled or ordered to notify humans when some set of criteria are met, the network underlying the IoE could tip global civilization into a new era that is more a combination of the Information and Industrial Ages than it is similar to either one. The IoE, Cisco implies, could make it possible to monitor the whole world from a desktop and render every significant machine remote-controllable for those with the right knowledge and access rights. The impact would be huge. The profit from making it possible, and owning the hardware and software that make it happen, would dwarf the $14.4 trillion Cisco predicts would be available to other companies. The result of leading or dominating the effort to connect and automate
everything
would be as big as if one company had been able to conceive the idea of a railroad, invented the tracks, bought up all the rights-of way to lay track throughout every country in the world, and left it to others to build locomotives, freight cars, passenger vehicles, transportation industries and global freight- and passenger-distribution networks, all running on those same tracks and paying royalties to the company that first laid them. The Internet of Things isn't an invention of Cisco's. Its inevitability has nothing to do with Cisco's relentless and expensive development of technology to make it possible. Cisco is not to blame for the IoE or its impact – good or bad – in the future. Cisco is, however, in the position of making itself immensely richer and more powerful, by building or controlling the technology used to put the Internet underneath every Thing in the world.
Image: Beecham Research/Cisco Systems