[caption id="attachment_8283" align="aligncenter" width="558"]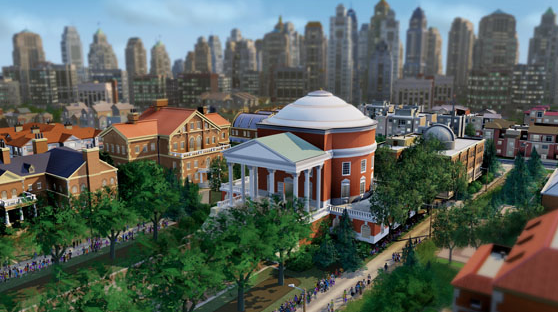 The latest SimCity.[/caption] On paper, it must have seemed like a great idea to somebody: design a long-anticipated video game so that nobody—not lone players, not groups—can play it without a continuous Web connection. That's exactly what Electronic Arts and Maxis did with the latest
SimCity
, and it looks like the result is a digital apocalypse. For those without an interest in video games or urban planning:
SimCity
is the latest in a franchise of games that allow the player to govern a city from its beginnings as a patch of dirt to a full-fledged metropolis. Whether or not the city actually reaches that metropolis stage, of course, depends on the player's skill in allocating resources, building infrastructure, and managing whatever disasters arise. The games have remained enormously popular over the years, and the newest edition, released this week, proved no different. In fact, so many players rushed online to play the game that it overloaded EA's servers. "We are hitting a number of problems with our server architecture which has seen players encountering bugs and long wait times to enter servers," Kip Katsarelis, SimCity's senior producer, wrote in
a March 6 message posted on the EA Forums
. "This is, obviously, not the situation we wanted for our launch week and we want you to know that we are putting everything we have at resolving these issues." Through the end of the week, Electronic Arts will deploy more servers in order to alleviate the crushing load of customers wanting to play the game. It's also set a team of engineers to fixing as many bug reports as possible. "While the ongoing issues are troubling, we can also see that players are really enjoying the game," Katsarelis wrote. "In a single 24 hour period, there were more than 38 million buildings plopped down, nearly 7 and a half million kilometers of roads laid down, 18+ million fires started and (my favorite fact) over 40 million pipes filled up with poop." Even as they cited the connection issues and other server-related issues,
early reviews have praised the game's mechanics
, which could bode well for
SimCity's
long-term prospects. Nonetheless, the fiasco is more than a little embarrassing for the game's creators.
SimCity
isn't the only game in recent memory affected by server issues.
Diablo III
, another sequel in an ultra-popular franchise,
encountered some network problems on its first day
. What's the lesson here for developers, software companies and cloud providers? Anticipate your server load. If you have a popular cloud-based product, chances are pretty good your network will experience significant strain as soon as that product hits its release date. While some problems can't be anticipated (an electricity-grid issue, for example, could take down a data-center through no fault of the operators), it is possible to prepare for massive demand, especially when your company can throw in millions of dollars' worth of infrastructure to help deal with it.
Image: SimCity.com