[caption id="attachment_3676" align="aligncenter" width="500"]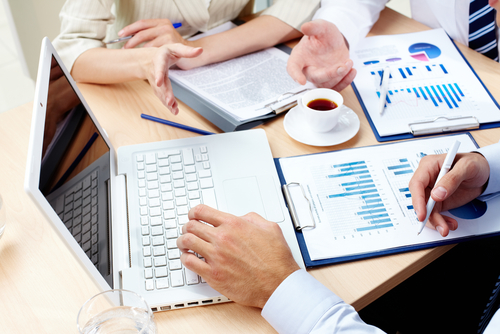 Who doesn't enjoy crunching data alongside one's coworkers?[/caption] Collaborative business-intelligence work will become the next big thing, suggests
Dresner Advisory Services
founder Howard Dresner. Dresner recently published his third annual Wisdom of Crowds Business Intelligence Market Study, which drew its data from a pool of 859 participants whose organizations utilize business-intelligence tools in some fashion. Many efforts related to business intelligence tools are unsuccessful, he suggested in a
subsequent SandHill summary
of the study's results. "The way that most folks collaborate in BI today is through email," he wrote. "We all recognize it's very inefficient, but it's available and we're comfortable with it." Improved collaboration technologies, he argued, "could allow people to make better decisions much more quickly by bringing in all the relevant resources and also to document that." A number of IT vendors are interested in designing collaborative features into their products, but much apparently depends on organizations instilling a collaborative culture: "If [a company] doesn't have a collaborative culture, the best technology in the world probably won't change things." Dresner's survey also found that retail organizations are investing heavily in business-intelligence and associated infrastructure, including mobile apps. "There is a sense of expectation or immediacy," he wrote. "Retailers see it as a real game-changer and are making a huge investment in all levels, on the infrastructure side, on the application side, and on the device side." With regard to other verticals, the healthcare industry has increasingly embraced data-mining as a critical tool. Despite that embrace of business-intelligence tools from some quarters, those tools' penetration rate within companies remains relatively low, with a minority of employees using them as part of their workflow. That being said, of the workers with access to tools, many of them used multiple ones in order to get their jobs done. But the proliferation of tools raises potential governance and compliance issues. Around 41 percent of those surveyed "completely agreed" that their forays into business intelligence had proven a success—a low number, but apparently an uptick over Dresner's previous surveys. Smaller organizations apparently succeeded more in their business-intelligence forays than their larger counterparts. Those smaller organizations "are more able to quickly deploy BI and achieve the business benefits faster because of their lower level of organizational complexity," Dresner wrote. "However, it is encouraging to see that 83 percent of the largest of the organizations have seen some measure of success with BI." Meanwhile, only 11 percent of respondents said their business-intelligence efforts had ended in an extremely bad manner.
Other recent surveys
have found that organizations are looking to the cloud as a key element in massive data-mining operations, and that many want some sort of real-time capability.
Image: Dmitriy Shironosov/Shutterstock.com