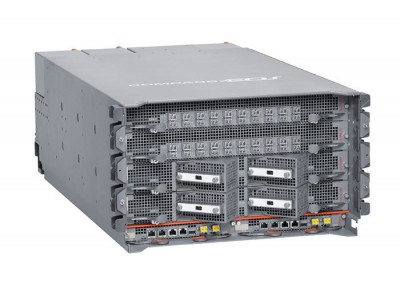 After years of work, Compass-EOS is claiming it's united optical and silicon technologies inside a working product. The Israeli startup announced the Compass-EOS r10004 core router, which eliminates the midplane or switching fabric in favor of a passive optical mesh, resulting in what the company calls unlimited bandwidth between all line cards. Each line card can operate at the full line rate without dropping packets, it claimed. Transmitting electrical signals over wires inevitably produces some waste heat and loss of signal; using optical connections replaces the electrons with photons, dramatically cutting the power involved. But groups have failed to combine the two into a cost-effective and efficient platform known as silicon photonics. In January, Intel said it would
contribute its 100-Gbits/s silicon photonics technology
to the Facebook disaggregated rack used in its Open Compute Project; but Intel followed that up by claiming it was contributing "engineering prototypes." So Intel is seeking to make rack-to-rack optical interconnects a reality. But Compass-EOS is apparently well ahead, having already deployed the r10004 to at least two customer sites: a Japan-based voice, internet and cable provider that uses the routers at the termination points of its transpacific high capacity network, as well as a U.S.-based media and technology company that has deployed the r10004 for high-bandwidth connectivity between data centers of a global content delivery network (CDN). The company said it has been shipping the r10004 since late 2012. Compass-EOS refers to its silicon photonics platform as icPhotonics, and claims that the technology has also resulted in a smaller router within the parameters of a 6RU form factor. Line-card options include two 100GbE ports and 20 10GbE ports, which are software configurable to 10GbE-LAN, 10GbE-WAN, OC-192POS, STM-64POS, and 10GbE-OTN. Compass-EOS designed its own operating system for the core router, designed to scale up to a chassis cluster. The company's approach to DDoS attacks is to limit the aggregated rate of the router as a whole, not by port; this deals with DDoS threats without reducing capacity. Cisco has invested in the company,
suggesting it could be a takeover target in the future
. "Addressing the electronic interconnect barrier through a technology like photonics is essential in keeping Moore's Law on track," Vernon Turner, a vice president at IDC, wrote in a statement. "Silicon photonics is still in the research phase of product life cycles, but Compass-EOS has emerged from stealth mode with this offering, thus giving them a clear lead in the race to eliminate network bottlenecks—something that should greatly interest service providers." One question that Compass-EOS hasn't answered is price. Deploying a few of a company's machines into key customer locations is standard practice for a young startup; actually selling them is something else. (The company hasn't yet responded to a request for comment.) So for now, the question is this: Compass-EOS seems to deliver a compelling technology proposition—is the value there, too?
Image: Compass-EOS