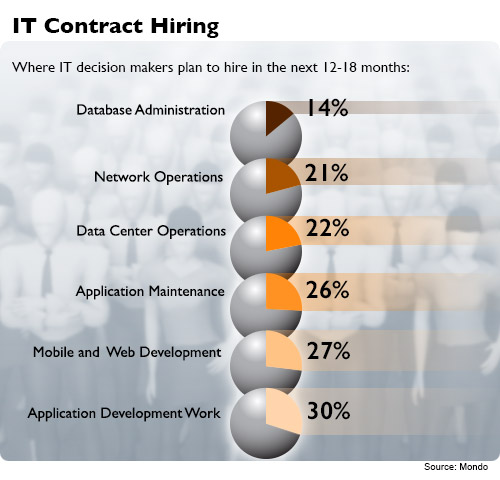 Contractors focusing on app development will be in the greatest demand over the next 12 to 18 months, according to a survey by technology resource provider Mondo. These contract apps developers will be riding a broader wave of increased hiring among technology contractors overall: Forty eight percent of the IT decision-makers surveyed plan to hire more contractors than full-time workers during the period. Additionally, 32 percent say they'll increase their annual IT contractor budgets.
Economic Improvements
Despite the government shutdown and debt ceiling antics, the overall economy is faring well, says Eduardo Martinez, senior economist with Moody's Analytics. "Barring another politically motivated scare to the economy, the pace of GDP and employment growth should deepen into 2014 and 2015 on the strength of deepening consumer and business confidence and revival of new home construction," he says. "We also expect IT investment to continue to grow in 2014 and 2015, albeit at a slightly slower pace than 2013, and well below the pace reached in 2006 and 2007, right before the recession." In past economic recoveries, companies would typically hire contractors in lieu of full-time staff as they got back on their financial feet. After the most recent recession, however, companies began looking at contract workers as a permanent solution. "The average length of a contract now is 12 months, whereas two years ago it was nine to 10 months," says Laura McGarrity, Mondo's vice president of marketing. McGarrity notes that requests for contract IT workers have been steadily rising at Mondo over the past two years while demand for full-time workers has been flat. In particular, companies are looking for contractors with years of experience. That's another reason decision makers need to increase their contractor budgets. "They know experience costs more," McGarrity observes.
Demand Areas
According to the survey, 73 percent of respondents currently use contractors for such services as application development, Web and mobile development, application hosting and application maintenance. Of every dollar spent on IT contracting, 48 cents goes to application services, Mondo says. Over the next 12 to 18 months, 30 percent of IT decision makers say they'll contract out more application development work, while 26 percent plan to do the same with app maintenance.