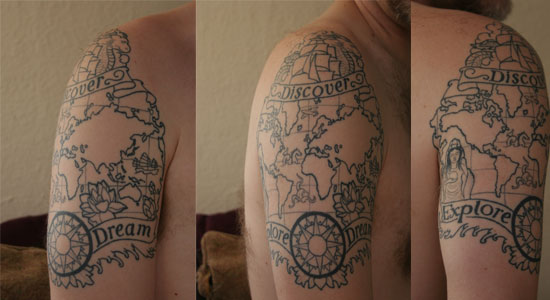 Ted Beatie's tech career started over 20 years ago when he entered the workforce as a sys admin for an imaging research lab in Boston. In 1995, he moved to
UUNET
, where he was propelled toward IP networking and systems integration on the leading wave of the Internet. At the time, the U.S. backbone map fit onto an 8x11 piece of paper and had few redundant T1s. By the time he left five years later, that map required a four foot plotter and had redundant OC-192 rings within metro regions. After many years working with content delivery and secure data storage providers, as well as collecting three tattoos along the way, Beatie found work that leveraged his technical expertise and love of travel, which is also reflected in his body art. Currently, he's a technical resource for all third party developers in the Americas at
Travelport
, a global business services provider that serves every segment of the travel industry.
What prompted you to start getting tattoos?
I'm 40 now, but it was sometime in my 20s that I started thinking that I might want a tattoo. For many years, I had no idea what to get. I'd occasionally walk into a tattoo parlor or pick up a tattoo magazine, but what I saw mostly showed me what I
didn't
want – cute or fierce animals, skulls, religious imagery, graphic pictures of skin being ripped open showing muscle and bone beneath.
Is there a story behind that first tattoo?
It was 2001, and a few friends and I flew to Seattle to see Peter Gabriel's WOMAD festival, and we stayed at another friend's home in the area. Hanging in the bathroom window was a piece of stained glass – a phoenix – and I knew that I had found my inspiration. Unlike the animals I had seen before, this phoenix was neither cute nor fierce, and had a smile that implied it was happy with its transformation.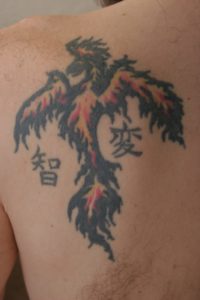 I contacted the artist to get her blessing, and for my 30th birthday got inked for the first time. I combined the phoenix with the kanji symbol for change under its left wing. I had it placed on my left shoulder blade, to watch my back and guide me forward. A year later, I added the internal coloring and the kanji symbol for wisdom under its right wing. The phoenix, symbolizing rebirth and change, gains wisdom with each new life.
Which one is your favorite?
After a decade of change and figuring out who I wanted to be, my 40
th
birthday present to myself was a map of the world wrapping over and around my upper right arm. In addition to being a technologist, my passion is exploring the world and sharing it with others through photography, writing and advocacy. Not only did I want to symbolize this with a map, but I looked forward to traveling with our daughter (named Sahara Dawn after a desert sunrise over Erg Chigaga, Morocco) and being able to point to wherever in the world we might be, whether we're in Thailand, Turkey or Tanzania.
Who created and implemented the work?
My first and second tats (kanji for enlightenment on the inside of my left arm) were designed by the artist of the stained glass and a Japanese calligrapher, and inked by Jen Moore of Sanctuary Tattoo in Portland, Maine. She had been referred to me by a good friend when I lived in Boston. For the world map, I researched local Bay Area artists and came across Cameron Miller of Warhorse Tattoo in Berkeley. I was drawn to his skill at black work and affinity for nautical themes. While I had a clear idea of what my earlier tats would look like, this one required designing from scratch. I worked with Cam to take my simplistic idea and make it something unique. Originally, I had envisioned a band around my arm, but he guided me toward the larger canvas of my whole upper arm with a number of iconic additions: lotus flowers for the pursuit of enlightenment and clarity of mind and spirit, boats and a plane as modes of transportation, sea monsters to remind one of due caution, Guanyin the bodhisattva of compassion and protector of travelers and a water dragon, the Chinese zodiac sign of our daughter, as my guardian. Framing the map is a compass rose and parchment ribbon with the words, "Explore – Dream – Discover," from a favorite quote by Mark Twain.
Do you have any other art on your body?
I got my first piercing when I was 17, now holding a closed 10 gauge ring in my left ear. Some years later, I added a second piercing in the same ear, and just a couple of years ago, a piercing in my right ear. I gravitate towards large tribal-style stainless steel earrings. Those are my most obvious and signature body art, since my tats are generally unseen outside of summer tank tops.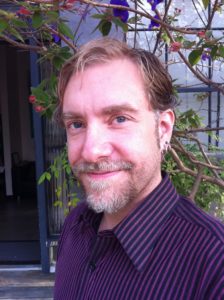 Are you planning any more tattoos?
I am looking forward to the shading of my map for my 41st birthday in November.
Have you ever gotten any flack for the tattoos at work, or have they ever affected your employment?
Quite the contrary, a number of colleagues have complimented me on my earrings, and on the rare occasion my tats have been visible they've garnered either compliments or no mention. I've never felt ashamed of who I am or of how people perceive me. In being both comfortable with myself and respectful of others, I'm sure that what I choose to wear in my ears or ink upon my body isn't relevant in terms of either my technical skill or my ability to build professional relationships.