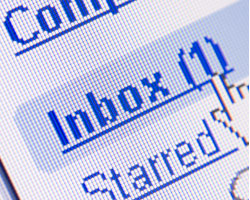 When you're responding to an online job posting, cover letters are every bit as important as they were back when applications were sent in on old-fashioned paper. But many times, electronic systems provide either too little space for your self-introduction, or don't allow you to attach one. Still, there are ways around such roadblocks, whether you apply via email or fill out an online application form.
Email Workarounds
When you apply via email but are limited to a single attachment, paste an abbreviated version of your cover letter into the body of your message. Don't exceed two to three paragraphs, or about 150 words. (This paragraph is about 90 words long.) As with traditional cover letters, the point is to convince the reviewer that your resume is worth looking at. Remember, even a short cover letter should be personalized,
customized
and
error-free
, so use word processing software to create and edit your draft. If you're asked to paste a plain text version of your resume into the email's body, include an introductory paragraph that mentions a mutual acquaintance and specifically connects your skills and experience to the hiring manager's needs. You can score points by showing that you understand company's issues and explaining how you can solve them, even when space is limited.
Online Application Workarounds
If you're using a job board like, say, Dice, always include a cover note or introductory paragraph when using your saved information. If the "apply now" button takes you to the company's website or an application form without a designated space to introduce yourself, merge a short cover letter into the top of your resume before pasting it into the resume builder. If a strict format's being imposed, customize your profile and summary toward the company and position, include links to your online portfolio and profile, then email your cover letter directly to the manager. Cross-reference your online application in your email and attach another copy of your resume.
Other Workarounds
Call to introduce yourself or leave a short voice mail for the manager expressing interest and referencing your online application. Pique their interest by stating why you're the best person for the job.
Fax your cover letter (yes, some companies still use faxes), then follow-up via telephone to make sure the manager received it.
Ask a colleague to hand deliver your letter to the manager, use regular mail or express mail to deliver your letter, or give it to the company receptionist in a sealed envelope.
Deliver your letter in person by frequenting the manager's favorite user groups or hanging out at the local coffee bar. But if you do this be courteous, brief and don't start a hard sales pitch.
There are lots of ways to get your message across even if you have to apply online. What's worked for you? Tell us in the comments below.