By utilizing a few resources and creating an experience inventory, resume customization can be as easy as 'research,' 'edit' and 'submit.'
By Leslie Stevens-Huffman | March 2009
---
Customizing your resume to match each job opportunity will result in more interviews and offers. But is the potential return worth the time investment? By utilizing a few resources and creating an experience inventory, resume customization can be as easy as "research," "edit" and "submit."
Create an Inventory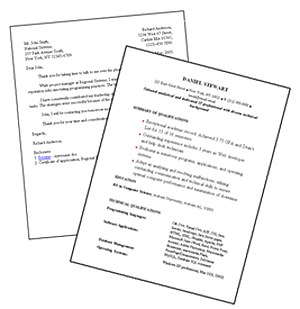 Instead of building your resume from scratch before each submitting it, create a warehouse of personal information so you can peruse your choices, make appropriate selections, and paste the information into the resume after you've read the job description and researched the company.
Keyword Buckets: Candidates are initially screened by how closely the keywords in their resume match the keywords in the job description. Keywords include job titles, hard and soft skills and industry buzzwords. Read several job descriptions for each position and industry you're pursuing. Then create keyword buckets which can be copied into your resume to correspond with each opportunity.
Experience Buckets: Create an inventory of your previous achievements by company and position. Then explain how you attained each one through accomplishment statements which illustrate how you applied your knowledge, skills, experience and competencies (be sure to include keywords). Customization is faster when you copy and paste your experience, allowing more time for research and the strategic alignment of your background with the opportunity.
Objective and Summary Statements: Write experience summaries for the jobs and industries that interest you. Sell yourself to the reviewer by emphasizing opportunity-specific experience, skills and traits.
Customize on the Fly
After you've made it through the keyword screen, a genuine human will determine whether you'll interview for the position. Since most candidates have plenty of experience and success, deciding which experiences to include or exclude is critical.
"Even though you may be really proud of an accomplishment, sometimes you have to let it go, if including it won't help you land the job," says Joseph Terach, CEO and senior resume writer for Resume Deli, a career counseling firm based in New Jersey.
Since most candidates vie for a few positions, they often create a version of their resume tailored toward each role. But you can take customization to the next level by making simple adjustments on the fly and emphasizing different experiences to reviewers.
"Small things - like reordering your accomplishment statements or changing the font type or style in the company names and job titles in your experience summary - will send different messages to the reviewer," says Terach.
Candidates with Fortune 500 experience should consider bolding their previous job titles when applying to entrepreneurial firms. Bolding the names of previous employers will emphasize the candidate's large company experience, suggests Terach.
Next, tailor your accomplishments to fit the company's environment and needs by selecting appropriate examples. For instance, highlight your innovative creativity when applying at entrepreneurial firms, and provide examples of your process-driven experience and compliance aptitude for highly structured environments.
"Moving bullets is a simple way to customize a resume," says Susan Ireland, a resume expert and author based in California. "For example, a programmer applying for a tech writing job may want to move up the bullets describing their documentation experience, since that's a top requirement."
Resources
These resources may help you simplify the inventory and resume writing process.
Resume Software: Free resume samples, templates and wizards are available online, but consider renting resume writing software or purchasing a package, which often costs under $40. The software allows job seekers to select from an inventory of more than 160,000 key phrases describing the experience, attributes and skills required for specific positions, according to Matt Hendrickson, vice president of product management for Individual Software Inc.
Occupational Sites: Occupational Web sites like O'Net OnLine provide job seekers with keywords and well-crafted examples of experience and skill requirements for thousands of jobs.
Keyword and Action Verb Lists: Search the Internet for free lists of industry buzzwords for your keyword buckets and resume action verbs to begin accomplishment statements Lists are available on Wikipedia.
Leslie Stevens-Huffman is a writer in California.