[caption id="attachment_3311" align="aligncenter" width="500"]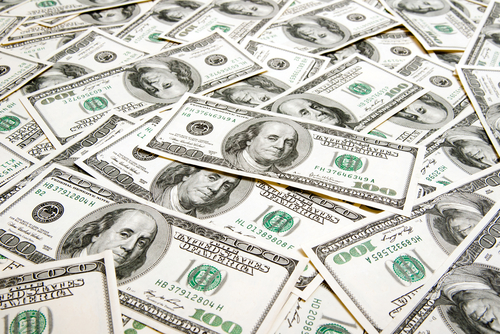 If you can crunch data like nobody's business, a giant pile of cash can be yours.[/caption] A data scientist might take home a hefty paycheck, but a new survey finds a significant number of them concerned about their job security.
SiSense
, a maker of business-intelligence software, surveyed some 400 data professionals from around the world in July 2012. It found their average salary ranged from $55,000 (for a data analyst) to $132,000 (for a vice president of analytics). Moreover, salaries seem on the rise: around 61 percent of respondents reported earning more money this year than in 2011, and 78 percent anticipating making even more in 2013. At the same time, though, respondents also expressed a bit of pessimism, with 47 percent reporting concerns of some sort about job security. Nor have the majority of data workers been in the profession for very long, with 59 percent reporting six years or less of experience. Among the respondents, 85 percent reported having a college degree, 39 percent came equipped with a Master's, and a mere 5 percent own doctoral degrees. Those with BAs earned 16 percent less than those with MAs, who in turn earned 65 percent less than those with full Ph.Ds. The SiSense survey isn't the first to indicate that working with data can translate into a hefty base salary.
Dr. Dobb's 2012 Salary Survey
found that database administrators made an average of $91,000 in 2012, business analysts $89,000, programmers/analysts $79,000, and systems analysts $80,000. Each of those job salaries enjoyed a healthy uptick from 2010. Other reports have indicated that it's indeed a good time to be a data analyst, at least from an opportunity perspective.
A much-quoted analysis
by McKinsey & Company's Business Technology Office indicated that the need for analytical talent would exceed supply by 50 to 60 percent by 2018. That could bump up analyst salaries, but it could also drive businesses and IT vendors to develop analytics and B.I. tools capable of use by regular employees. A recent study commissioned by Karmasphere found that 70 percent of respondents wished for a self-service way to utilize Hadoop, a popular framework utilized by many organizations for data analysis. The increased interest in Big Data over the past few years could explain the relative inexperience of respondents in the SiSense survey. If data analytics remains popular—and there's no reason to believe why it shouldn't—then the number of people entering and staying in the field could increase.
Image: Loskutnikov/Shutterstock.com