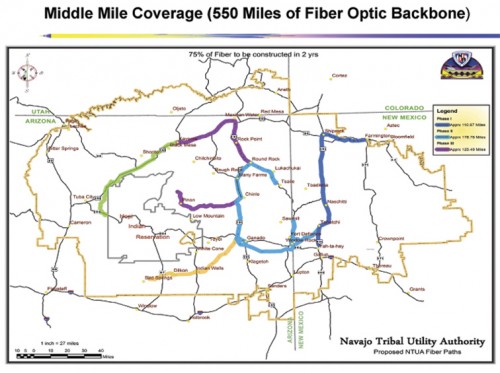 The Navajo Nation cut the ribbon August 13 on an $8 million data center that has been under debate and development since 2000, when then-President Bill Clinton expressed shock that a 13-year-old Navajo girl who just won a new laptop couldn't connect to the Internet. At the time that girl won the laptop in a school contest, there were no wireless-access facilities within the territory of the Navajo Nation—a 27,425 square-mile region that covers portions of Arizona, Utah and New Mexico. The incident helped drive debate among leaders of the Navajo Nation, many of whom said they believed adding telecommunications and computing facilities were secondary to other concerns for the chronically poverty stricken region. The need for students to learn computer skills and access information unavailable on paper within the boundaries of the Nation eventually convinced even the most reluctant leaders,
according to the local Daily Times newspaper
. The 50,000-square-foot facility in Albuquerque, New Mexico includes 25,000-sq.-ft. of datacenter and an equal space for computer training and business incubation, according to Nova Corp., an IT services company owned by Navajo Nation and formed in 2004 to execute an IT plan to create the
"Digital Navajo Nation" (PDF).
The datacenter consolidates existing server rooms and telecom facilities, saving money on security, maintenance and connectivity, improved availability, centralized disaster recovery and backup. The drive to get it built also helped push development of a $46 million broadband project designed to cover about half of Navajo territory with 550 miles of fiber, 32 new cell towers and upgrades to another 27. It will eventually connect more than 30,000 households and 1,000 businesses. "It's a very complex project, and the Navajo Nation is the largest reservation in the country," Mike Scully, general manager of the Navajo Tribal Utility Authority Wireless, told the Daily Times. Both the datacenter and the telecom network are designed to help develop more businesses within the bounds of the Nation, as well as improve connectivity to homes and schools in the area. Rather than being dedicated to one or a very few sponsoring organizations, the center will be open to any organization wanting to rent time or space. Between them, the datacenter and telco network will provide Internet access to 70 percent of the Navajo population on the reservation.
Image: Navajo Nation